It takes great patience and perseverance when it comes to working in your kitchen. Both for those who love cooking and who love eating, kitchen is the best place in this world. Personally, baking is my favorite thing which I love to do almost on an everyday basis. It's truly stress busting and gives a chance to show-off the creativity. In case you are feeling inspired for creating your own baking extravaganzas and want to renovate your kitchen, this is the right time for you.
Since baking is a task which requires great concentration, you will need to have everything within your reach and that too without doing any extra efforts. You can either contact online interior design services for the renovation or can do it yourself for adding some personal touch to your kitchen. If you are opting to do it personally, then the following tips will be beneficial for you.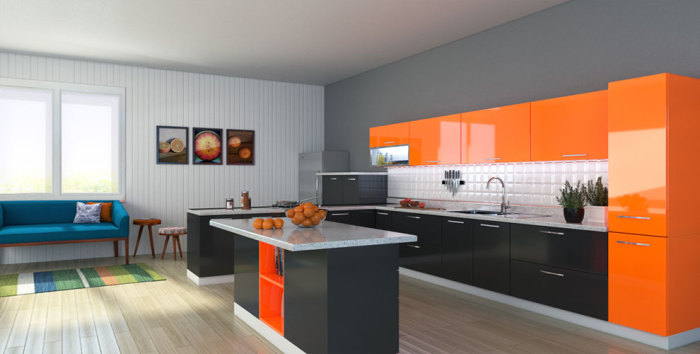 5 Ways to Renovate Your Kitchen
1. Vintage Accessories for That Retro Look: If you want to add a retro touch to your kitchen, then hunt down some vintage accessories and add them in your kitchen. Add a pair of retro scales and add colorful bowls to complete the theme. Create a vintage-style storage consisting of a free-standing island. You can take help from an interior design service.
2. Create a Pantry: A pantry area is invaluable for an organized kitchen. You can also make corner shelves for adjusting all your baking cookbooks and ingredients together. Buy set of canisters and jars of different sizes, to bring a different look and stylizing your kitchen. If you want to organize it a bit more, then you can add a label on each jar.
3. Select Perfect Countertop: Whilst renovating your kitchen, choose the right countertop. Since you are renovating the kitchen as per your baking enthusiasm, materials which are non-porous and hard should be opted. Granite and Quartz kitchen worktops are the best options as they are resistant to knife scratches as well as strains. Moreover, since they are heat-resistant, you will not have any problem in keeping a hot cake pan on it and it will remain cool while rolling out a pastry.
4. Create a Design with Utensils: If you do not have suffice cabinet space for all the baking utensils, then take them off the counter and put them somewhere else so as to create a theme. For example, you can put magnetic hooks at the side of a cabinet and hang light-weight items like a whisker or a cookie cutter. Create a shelf for small jars and use S-shaped hooks for hanging some utensils.
5. Create Storage for Trays & Pans: Managing plethora of cookie sheets, cake pans and mixing bowls is a cumbersome task and may be quite irritating if not found at the right time. Therefore, using wide drawers for them is a great option as it will help you to stack all the items easily. Moreover, keep all the things that you require frequently on the top and the things which are not used occasionally, at the bottom.
You can also take assistance of the online interior design services for renovating your kitchen in case you are looking forward to give an expert's insight to all the designs and renovations.