Pizzas have come a long way since their inception in Italy a long time back. Today, there are numerous types of pizzas contrasting in their color, aroma or baking style. They have spread all around the world and still evolving through years. New York Pizza is of one such kind that is immensely famous everywhere. It is different from other pizzas in various ways, be it the yellow oily tails or its typically large size. They are traditionally hand-tossed and consists a basic light layer of tomato sauce and cheese. New York pizzas are deliciously tasty and large enough to feed your appetite.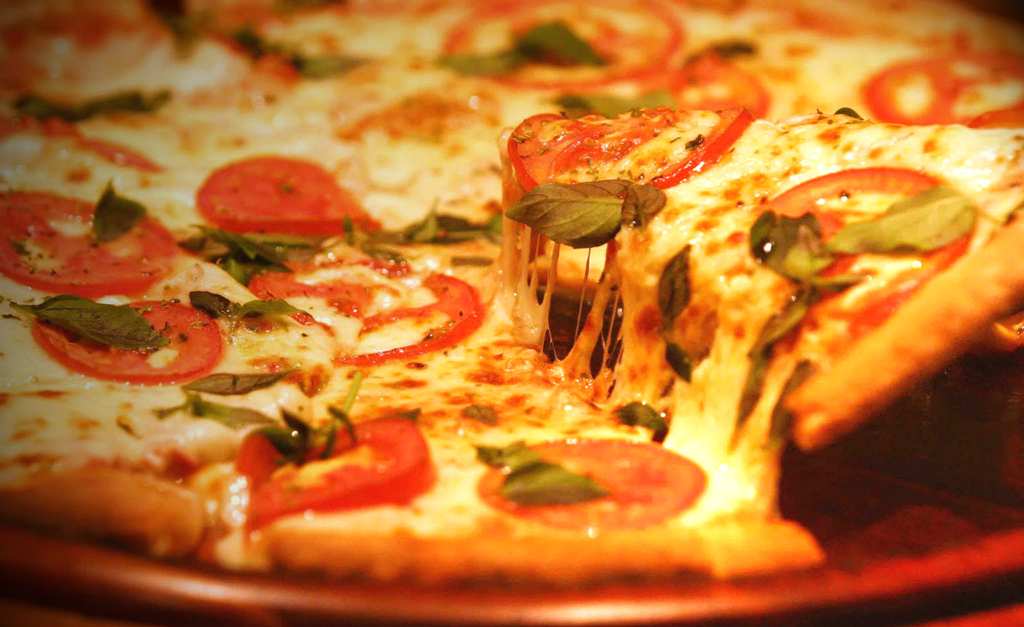 New york pizzas are famous for their amazing size and taste and have their own New York style pizzas covered with tomato sauce, real mozzarella cheese with additional topping on top of the cheese. It has a distinct crust that comes from high gluten bread flour along with mineralized water that affects its dough in giving its unique flavor.
The various reasons or you could say the characteristics of New York pizza that makes it, oh so delectable are described below:
New york pizza is typically large in size. They are 14 to 18 inches in diameter and are quite large in comparison to other pizzas which are usually around 12 inches or less so.  This 18 inches pizza has a big circle of dough and a much thicker outer area. It is often sold by slices due to their size. The slices are flat, wide and foldable. These slices are often eaten as snacks. New York pizza offers eight good sized slices which can be eaten by folding it in half.
The crust of the new york pizza is what makes it different which is thick but not too thick, thin but not pan pizza thin. It is of that perfect size you can't wait to devour. The crust has that perfect blend of crunchiness that crackle and folds easily while eating, which doesn't split or crack. It has multiple layers of  different crusts that adds different characteristics to its taste. All this is because of its dough.
The dough in New york pizza is generally American bread flour which is high in protein and readily produces gluten. Olive oil, sugar and many other components are being added to it that helps in giving the crust a different taste and makes it brown and chewy.
The red tomato sauce of New York pizza adds a tangy as well as a sweet flavor to it that works like magic on the tongue. It has that balanced sweetness and a barest there, smell and taste of herbs. The sauce of the pizza is not a typical tomato one but a blend of tomatoes, oregano, butter, onions and olive oil that give it, its distinct flavor to rejoice.
New York pizza have dry and grated mozzarella cheese in it. This type of cheese are used sparingly in the pizza so that it could melt off and mix with the tomato sauce. The result of which is the browning of the mixture in the heat of the oven, very slowly. The cheese adds the goo factor to this pizza making it more tasty to look and eat.
The typical ingredients of New York pizza consists of oregano, grated cheese, garlic powder, and red chili flakes. A lot of mozzarella cheese is also put on later on top of  the pizza that adds to its taste.
New York pizza has that greasy, stringy and perfect quality to it that makes it the best choice of snack to indulge in. It has the amazing blend of sauce, flavors and crustiness to enjoy and savor.