We all are familiar with hardwood flooring and laminate flooring, however, things have started to change and a lot of people are now opting for natural flooring which is a cheaper and more environment friendly option, when compared with hardwood flooring.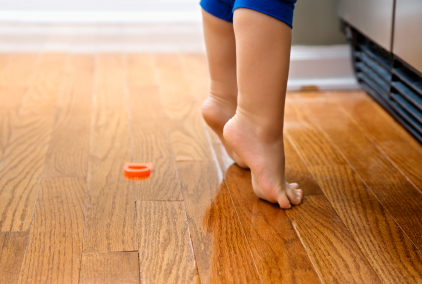 Natural flooring had many advantages. They are cheap, comfortable and durable. However one main problem which keeps reoccurring with natural flooring is that they can be difficult to clean. It has been found that a big percentage of indoor pollution is caused by the usage of indoor pollutants like formaldehyde, chloroform, and styrene. Apart from spoiling the natural colour and texture of your natural flooring, toxic cleaners can cause a wide range of problem in the human body like eye irritation, dizziness, asthma attacks, and respiratory infections, loss of concentration, fatigue, wheezing, coughing and hypersensitivity.
Here are some tips which can help you to keep your natural flooring clean for an extended period of time.
Avoid dirt from entering your house by all possible means. Place doormats on the entrance of your house, which will help to reduce the influx of dust.
You can ask all your guests to remove shoes at the entrance and do not forget to do regular mopping or vacuuming which will inevitably increase the life of your natural flooring.
If you have natural flooring, consider water as your enemy. Water will make the fibres rot and destroy the shelf life of your carpets.
In case there is a spill in the wooden floor, then don't try to rub it. Rubbing would only make things worse. Instead try to bloat things, which would prevent the fibres from breaking down pre-maturely.
If simple bloating does not work, then do not go for any chemical cleaner. Instead opt for club soda mixture. In case you do not have a soda, you can mix vinegar with water and get your job done.
Shaving cream is another saving grace and can help you to rid of any type of blots. You can spray shaving cream on the affected area and wait for it to dry and then wipe it away.
If you want to keep your carpets fresh smelling, then instead of any type of chemical freshener, use a few drops of essential oil with a mug of baking soda and spread it all over the floor. This will keep your natural flooring smelling great. However ensure you do this process on a bright summer's day to prevent the baking soda from absorbing any moisture.  If you have pets in the house, you can use a quarter cup of borax to keep away fleas and other harmful infection.
Floorspace.com.au is a supplier of natural flooring in Australia. It offers customers various different types of natural flooring options, depending on their size and colour requirement.  At Floorspace, you can choose from a wide variety of design or get your own design imprinted on the rug and create a custom design. All products from Floorspace.com.au are completely natural and help to make not only your home but also the planet more beautiful.