Across the world, manufacturing is a crucial sector in any economy. Manufacturing industries like food, electronics, and steel companies employ thousands. If you are one of those planning to join the industry, establishing your plant is crucial to your success. Below are some tips on how to plan a manufacturing facility from the ground up.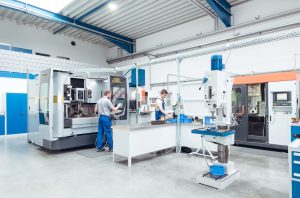 Calculate the Overall Cost of Your Project
When planning any project, it is always essential to have an estimate of the costs involved. Identify a reputable company that can apply value engineering to streamline every phase of constructing your manufacturing facility.
While many contractors will only state how much it costs to launch your project, it is crucial to know how much the entire facility will cost to complete. Moreover, you should be aware of the repair and maintenance costs needed. This will guide you in making decisions so that your investment is sustainable.
Know Your Priorities
We get it; building a new facility from the ground up is an exciting prospect. Nonetheless, you should not be too caught up in the hype of designing your new manufacturing facility. Start with the basics, like installing acid brick flooring. You need to choose materials that will be easy to clean. Be sure to pick out materials, especially for your floors, that can stand up to daily wear and heavy cleaning chemicals.
Sit down with your designer, builder, and construction team to identify the main priorities of your manufacturing plant. There are various things that should top your priority list. They include:
The production capacity of your manufacturing plant
The type of equipment to be used. This could either be automatic, semi-automatic, or manual equipment.
The space demands of your manufacturing facility. Your space considerations should cater to your company offices, warehouse, quality control laboratories, and production section.
Water treatment facilities for the wastewater produced by your plant
Specific HVAC facilities for cooling your plant
Choose an Experienced and Reputable Builder for Your Plant
Unlike other projects, constructing a manufacturing facility is not an easy task. It requires a lot of experience and technical know-how to build the manufacturing plant. Choose a company that is renowned for constructing plants and facilities that are similar to your project.
When selecting a builder for your facility, consider the pointers below:
Reputation-Check online reviews to find out what other clients are saying about the company's services.
Experience-Look at the experience of the contractor you are choosing and match his skills with the facility you are building.
Past projects-Compare the contractor's past projects and see if he can meet the expectations of your project.
When constructing a manufacturing plant, take your time to decide what you want. Consult widely and get feedback on the best way to approach the process.