Congratulations! You're finally taking the plunge and buying the deck that you've always wanted. Before you direct the workers to the backyard, however, there are a few things that you should know about designing, affording and erecting brand-new decks. Here are just four important considerations as you plan.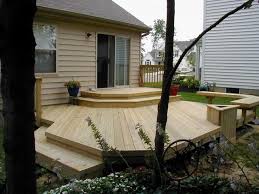 1. Size
How big do you want it? Think about height, width, and weight. How many people will it need to support? Think about load-bearing capabilities. You'll also want to consider logistics if you plan on building things like benches and built-in fire pits. Grab some sketch paper and figure out where you want everything to go.
2. Support
Adjustable deck supports can make all of the difference for your newest renovation. However, make sure that you're buying the right kind of levels and pedestals. They should have a high weight capacity, and they should be resistant to water, rust, heat and cold. If you care about being eco-friendly, you can also look for something made out of recyclable materials.
3. Wood
What kind of wood do you want for your deck? The most common is pressure-treated lumber; it's inexpensive and easy to install, and it's widely used for all kinds of backyard structures. If you're looking for something more high-quality, however, you might want to build a cedar or redwood deck. Just know that it will cost more.
4. Value
If you're just building a deck for yourself, you don't have to worry about making it appeal to anyone other than you. If you think that you might sell your home in the next decade, however, you should consider the impact that your deck will have on your property value.
These are just a few things to keep in mind as you plan for your new deck. As you can see, it's a bit more complicated than just pointing to a deck in a catalog and expecting the builders to make it appear out of thin air. You'll need to be an active participant in its design and construction, so roll up your sleeves and get ready to work!