The interior of our home is defined by upholstery, lighting, fixtures and furniture. The essence of the room is either classic or modern. But rarely do we use something that is transparent because we are afraid of experimenting. Transparent furniture made of acrylic is not just a safe option but is universal. The best feature of acrylic is that, it gives a glass like appearance. Best suited for smaller rooms because of its transparency it remains invisible but functional. There are different ways in which acrylic furniture can be used. We have listed some options below for one to have an idea about what will work for you best.
1. Functional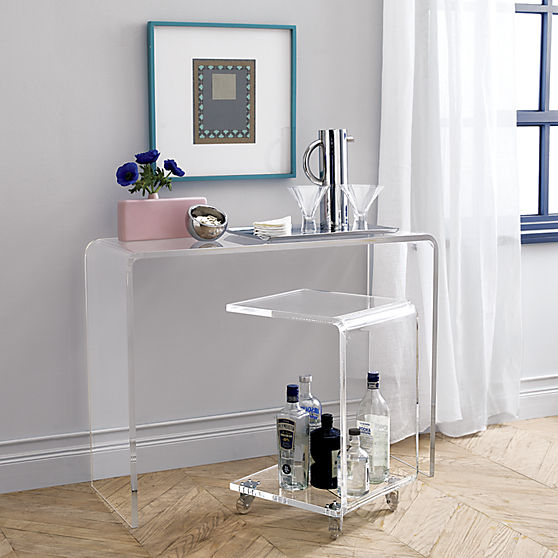 This small acrylic table that is movable can act as a moving bar or a utility table to keep laptop or it can be used as a side table. Because of its casters you can move the table from one place to another easily. Its small size allows it to adjust itself in any corner without occupying much space.
2. Show Stopper
This piece of furniture is an extreme stunner. It is a perfect blend of beauty and practicality. It can be placed in the middle of the dining room or the bedroom. Used dully as a table or a storing box, it will remain the center of attraction wherever it has been placed. By keeping stuff inside this trunk, you can easily show off your assets. The slight touch of rope gives a unique touch.
3. Take the Greener Road
Place these chambers wherever the green touch is required. Fill them with plants and moss. This adds oomph to any room and gives a natural essence. You can even add pebbles, sand to give an even more desert or jungle like look.
4. Crystal Clear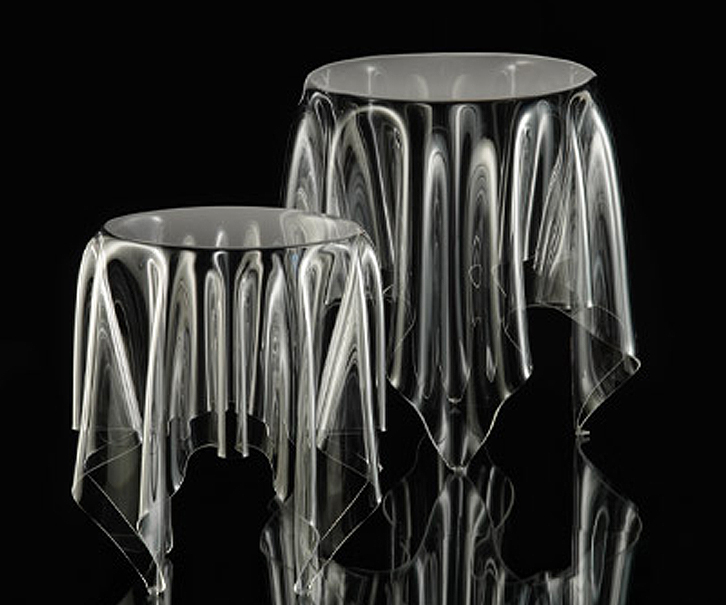 Giving an impression of having a table cloth over them, these tables are a must for every dining room. They are crystal clear and designed to suit and accommodate in any area. They can be paired with any style of furniture. Elegantly standing tall in the corner of any room will make them the most loved fixture.
5. Transparency
Refreshing and rejuvenating in its look, this is the new way of taking a bath. Recommended only for those who have a brave heart. Installing acrylic in the bathroom is extremely thoughtful and unique in its appearance and functionality. If you are ready to take experiments, then acrylic bathroom tubs are the best way to start.
6. Invisible
The best part about acrylic furniture is that it remains transparent and at times invisible. Until you don't store anything anything over it, people think that area is empty. This table is different from mainstream furniture. Its sides can be used for storing books and magazines making people believe that they are floating in the air.
Visit Website: http://www.shahrooz-art.com