After a few years or so, a home's interior design will usually need a bit of sprucing up in order to keep it vibrant and contemporary. However, this does not necessarily mean a pricey redesign by an interior decorator or a costly overhaul by professional builders is required. There are a lot of ways by which you can update the look of your home and make it more interesting. All it takes is a little creativity, resourcefulness, and minimal budget. Here are a few ideas to help you get started.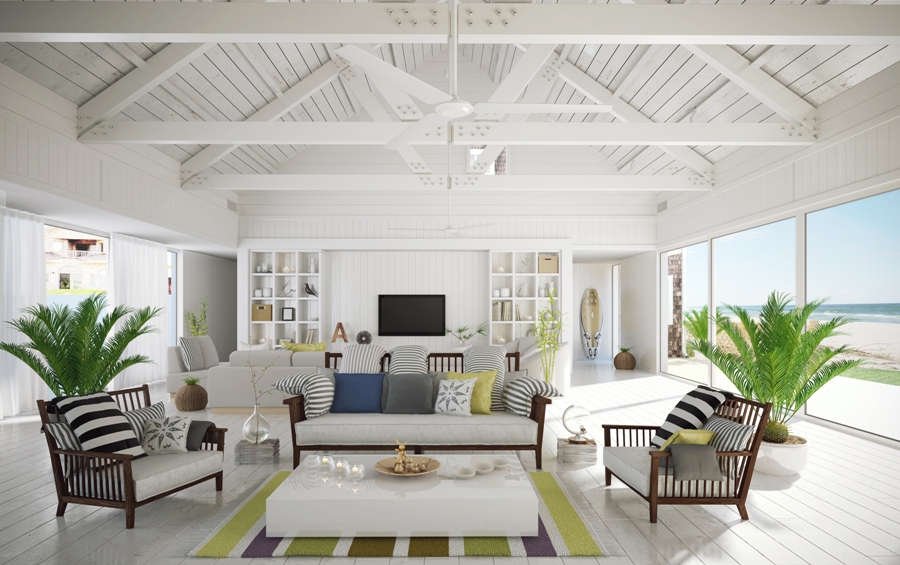 Bring the Outdoors In
 Sometimes, all that an indoor living space needs is a breath of fresh air—quite literally—and you can achieve this by bringing in some potted plants. There are a lot of low-maintenance greens that you can place in the corners of your living room or bedroom, which not only add a pop of color but also contribute to your health and well-bring by increasing the amount of oxygen in your home.
Install a Water Feature
 A wall fountain for the indoors is another great indoor feature that can even serve as the centrepiece of your living room. It helps break up a large blank wall or space in the house while also serving as a source of peaceful and relaxing background sound.
In Asian cultures, a flowing water feature inside the home is considered a lucky element of feng shui, which is a discipline that studies the balance of energy inside built environments. There are many types and designs of wall fountains that you can choose from to fit any space in your home.
Change Your Window Treatments
 A simple change of curtains or drapes in your living room or bedroom can make a world of difference, especially in terms of keeping the interiors of your home up to date. You might even want to go with a different type of window treatment altogether, such as shutters or blinds.
Window treatments serve a practical purpose of keeping light and heat out, but they're also used for improving privacy and insulating outside noise. Be sure to take into consideration your lifestyle needs when choosing products to hang on your windows.
Reupholster Old Furniture
 Couches, armchairs, and dining room chairs also tend to get dated after a few years, but instead of throwing them away and buying new sets, why not bring them to a professional for repairs or reupholstery.
Take the opportunity to change the color scheme of a particular room in your house by choosing new fabric colors or patterns for your furniture. Afterwards, slowly build around it by adding matching furnishings and accessories.
Change the Lighting
 A lot of homeowners take lighting inside their homes for granted, when in fact, it is one of the easiest and most effective ways to change the mood or atmosphere of one's surroundings.
Cool daylight bulbs serve the practical purpose of strong illumination, while warm yellow lights are more flattering to the skin tone. You can also save a lot on electricity by switching to the more popular LED lightbulbs available in the market today, which don't only consume less energy but also have longer service lives compared to other bulbs.
Add Artwork
 Hanging some works of art on your walls can help create a more refined and elegant atmosphere in your home. Serious art collectors prefer to showcase expensive and impressive paintings, but a good way to start is to simply choose artwork that appeals to you. What's important is that you like what you see, and it gives you pleasure and a sense of visual interest. Alternatively, you can also frame family photos and create a nice gallery of personal memories that everyone can appreciate.
Declutter
 Sometimes, the solution is not to add more stuff in your home but to edit them out. Through the years, items tend to accumulate in our living spaces without our conscious knowing. Take a step back, and see how you may have too many pillows on your couch or too many decorations on your mantle. Better yet, hold a garage sale and earn a pretty penny.
More of than not, improving the look of your home doesn't have to involve huge sums of money. With these ideas in mind, you can finally begin making your living spaces more appealing without breaking the bank.