Things are changing and changes are for good. Office areas too are no longer the same. Today offices have modern look with great interiors. The office cubicles are now seen everywhere. By using the different office partitions, it has become possible to give the employees their privacy along with the advantage of giving the work-space a unique look which matches to the taste and requirement of the users. Right from the glass office partitions, to the wooden partitions, there has been a complete change and makeover in the outlook of any modern corporate or business set-up.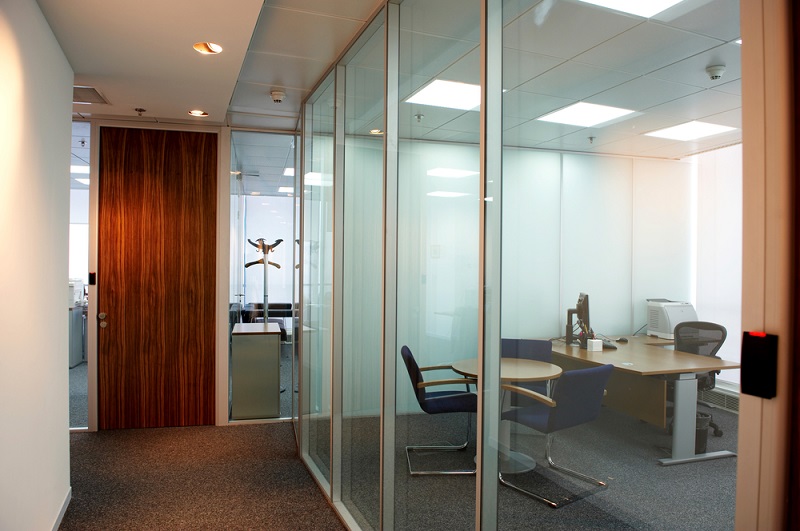 Kinds of partitions for office
There are different kinds of office partitions used today. But it is possible to divide them into different headings. They are:
Portable partitions: As the name suggests the portable partitions are portable or easy to move. When you have any requirement to increase or decrease the work space, you can move them. It is very simple to move these partitions as they have wheels or rollers. Although these partitions do not allow enough privacy to their employees, they can actually serve the best if you want to relocate and re-fix them in your new office.
Glass partitions: Glass partitions are made out of glass and aluminum. Such partitions come with or without frames. The glass partitions can be of half or full length depending upon own preference. Noise is reduced to a large extent, if glass office partitions are installed, and this lets the employees to concentrate more on their work.  These are not portable but provide lot of light to the work space. Glass partitions which are colored and frosted also look good and make the area look big and spacious.
Solid partitions: Solid partitions are made out of solid materials. These can be of different designs and styles. These can be the plasterboard panels with single or double skin. The solid plasterboard panel partitions are fully sound proof. These partitions are also fire rated up to 1 hour. Another form of solid partition is the composite panel which is used in demount-able partitions.
Floor-to-ceiling partitions: Also known as full length partitions made of pure metal with cloth frames, these floor-to-ceiling partitions are used to break the work-space. These are portable and can be dismantled and moved to any place.
Accordion walls: These are quite similar to portable partitions with the full enclosure of full length partitions. They can be moved and arranged according to requirement very easily.
Operable partitions: These are used mainly to divide the meeting rooms, conference rooms, halls etc. These are very flexible and look extremely good.
Storage wall partitioning: These partitions are used to provide storage space in the office along as they act as room divider.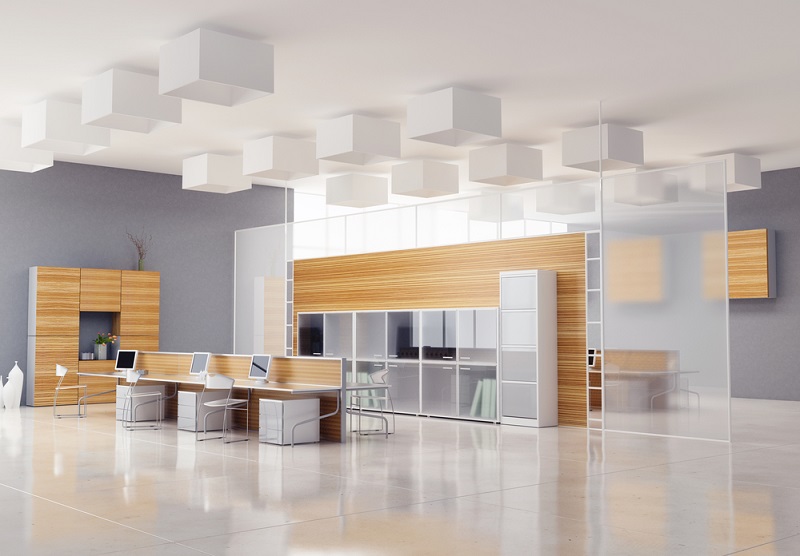 Some of the benefits of having office portioning are mentioned below:
The partitions divide the space of the office among the employees, so that each can have their own individual space.
The most important reason behind having partitions is that they provide privacy to the employees to work properly.
The partitions are usually built out of materials like glass, aluminum and wood which are much affordable than concrete.
These are portable and thus can be moved to create expanded or new work-spaces.
The partitions are very easy to install. These can be moved to new area very easily.
The partitions come in variety of design and materials. One has the freedom to choose any kind of partition according to use and choice.
The partitions come in different styles and enhance the look of the office. These can be tailor deigned too to suit the requirement of the office. Moreover, there is no need to all in the professionals to clean and maintain these partitions, as they can be cleaned and maintained very easily.