E-commerce is seen as a lucrative proposition by entrepreneurs today as it opens them to a whole new world of opportunities. However, the challenge is bigger than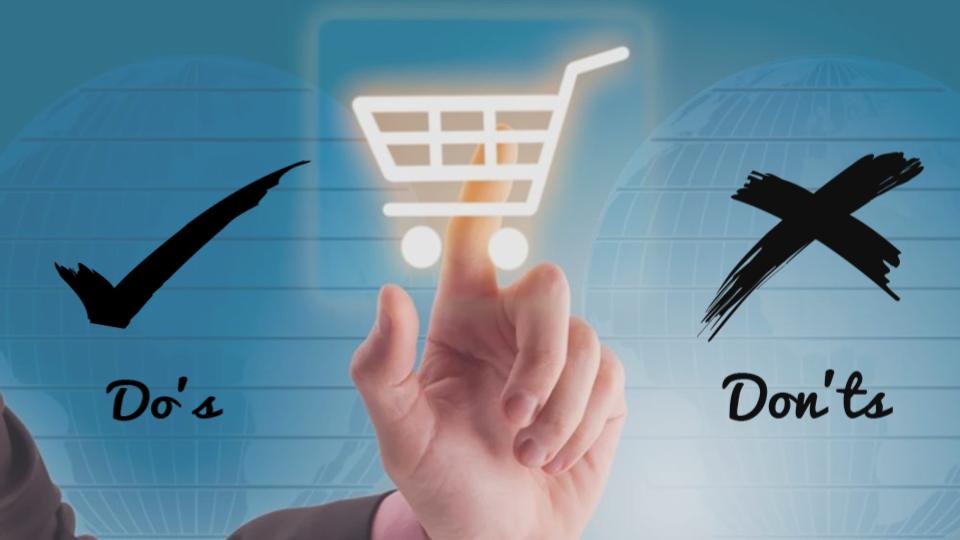 most of them think because of the raging competition out there. From e-commerce store development to its marketing and delivering end-to-end services to the buyers, every aspect of online selling is highly grueling. There are no hard and fast rules for making a transition from brick-and-mortar selling to online selling. Yet there are some guidelines that can be followed to maximize the chances of success of your business. Here are the 10 dos and don'ts to help:
1.Do Make The Right Platform Choice
An e-commerce website has to be enriched with essential features such as an appealing design, smooth navigation, SEO-friendliness, third party integration, and more. Therefore, the choice of a platform that supports all these functionalities a must. Magento, Shopify, PrestaShop, BigCommerce are some of the best options for online store development.
2.Do Ensure That The Website Targets Your Consumers
Once you have the platform in mind, the next thing is the e-commerce store design. A careful research is required to identify your targeted customers and create a site that caters to their expectations. A simple website that is easy to use and appealing to the eye is sure to get your business on the right track.
3.Do Be Available 24 By 7
Round the clock availability is a must-have feature for any online business because online never goes offline. Therefore, you have to be very particular about your customer service strategy. Having a 24 by 7 customer support team is one idea, while you can opt for an automated Live Chat too.
4.Do Offer A Personalized Shopping Experience
The significance of a personalized shopping experience cannot be ignored in the competitive e-commerce scenario. You should endeavor to deliver the same with your online store. It begins with an easy and simple checkout process that does not have too many complicated steps. Integration of data analytics is another good idea to elevate the level of shopping experience your are offering.
5.Do Harness The Power Of Social Media
Online selling is not just about having a website and making it visible with an effective SEO strategy. Harnessing the power of social media platforms such as Facebook and Instagram is vital for extending your online reach and building your brand.
6.Don't Underestimate The Value Of Product Photography
When it comes to selling online, shoppers pick the products on the basis of what they
see on the store. Therefore, you should never compromise with the product photography as it can make or break your business.
7.Don't Forget To Keep Your Catalog Updated
Forgetting to keep your product catalog updated with the latest products is the worst mistake that you can make. It not only drives away the visitors but also damages the reputation of your business in the long run.
8.Don't Go Easy With The Technical Integrations
Technical integrations such as payment gateway and shipping modules integration are essential for running an online store in a smooth and streamlined manner. Compromising with these integrations would have a negative impact on the checkout process and result in business loss.
9.Don't Avoid Following Up With The Customers
Another thing that is detrimental for online enterprises is not following up with the customer. They should be given tracking details before product delivery as well as be asked for feedback post-delivery. Such a practice fosters customer trust and gets them back for more.
10.Don't Expect Overnight Success
Expecting overnight success is a common blunder that online sellers make. It is better to be realistic and let the business grow with time. If you have a genuinely good product or concept, it will come out well in a due course of time.
Sellers who graduate from brick-and-mortar to e-commerce need to understand that both the channels should be complementary and not competitive. Adhering to these best practices will not only benefit your online business but the retail store too.