Nestled in the Shivalik Hills, Nahan is a town in Himachal Pradesh and is the headquarters of the Sirmaur District. Founded by Raja Karan Prakash in the year 1621, the quaint hill town of Nahan is one of the most offbeat getaways in Himachal tour packages. Surrounded by lush green forests and snow-clad mountains, the place is famous for its clean and dust-free streets, gardens, temples, and a manmade lake. Here are some of the places to visit in Nahan—
Suketi Fossil Park
Located at a distance of 21 km. from Nahan, Suketi Fossil Park rests on the left bank of Markanda River. Located on the upper and the middle Shivaliks, the park houses six sets of life-size models (made of FRP, fiber reinforced plastic) of Mesozoic animals that once thrived in the region. Also known as Shivalik Fossil Park, the park is famous for its rich collection of 2.5 million years old fossils of vertebrates from Shivalik.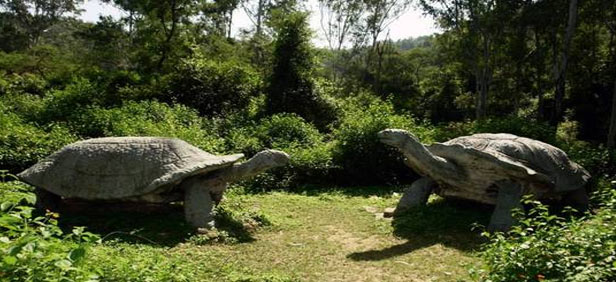 Renuka Lake
Located around 38 km. from Nahan, Renuka Lake is the largest natural lake in Himachal Pradesh. The lake takes the shape of a reclining woman and is considered as a personification of Goddess Renuka. Renuka or Renu is the Hindu Goddess and the name means 'Atom/Mother of Universe'. You can also indulge in boating in the lake while enjoying the serene beauty of the place.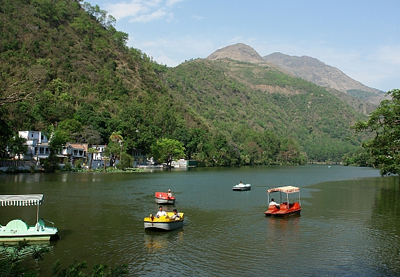 Trilokpur Temple
Built by Raja Dip Prakash in the year 1573, Trilokpur Temple is a place of great religious significance. Located at a distance of 23 km. from Nahan and 6 km. from Kalka-Ambala Highway, which is the gateway to Nahan from Haryana, the temple is dedicated to the Goddess Mahamaya Bala Sundri. The temple holds a fair twice a year during the Navratra in March-April and September-October.
Jamu Peak
Located around 8 km. from Renuka lake, Jamu Peak is a scenic place where one can enjoy the quiet environment. There is also a temple of Sage Jamadagni, who meditated here. The peak offers stunning views of the Renuka Lake and the picturesque surrounding.
Dhaula Khan
Located 20 km. from Nahan on the way to Paonta Sahib, Dhaula Khan is famous for its sprawling orchards of mango trees, citrus plants, and a fruit canning factory that packs a variety of juices, pickles, jams, and canned fruits. You can also spot a Kastasan Devi Temple built by Raja Jagat Singh in order to celebrate his victory over the advancing army of Rustam Qadir Rohilla.
Rani Tal
Located in the heart of Nahan is Rani Tal, a beautiful picnic spot or leisure destination. You can see the ducks, turtles, and cranes in the lake. The nearby Ranital Garden with a fountain inside further adds to the charm of the lake. There is a small temple dedicated to Goddess Lata Devi. You can also spot a statue of Lord Shiva at the edge of the pond.
If you are planning a holiday away from the hustle bustle of city life, then browse through the Himachal tour packages and head to Nahan for a leisure vacation.