BITS is the Birla Institutes of Technology and Sciences which conduct an entrance exam every year. The entrance exam conducted is known by the name – BITSAT (Birla Institute of Technology and Sciences admission test). The admission test is conducted for integrated first degree programmers at the various campuses of BITS. The BITSAT admit card, also known as the hall ticket, for the academic year 2016, was made available on the official website of BITS http://bitsadmission.com/ as per the schedule in the month of April, 2016. It was specifically made available for download 6th April on wards. Not just the entrance but the admission process too requires the hall ticket. Therefore a copy of it must be necessarily obtained by the applicants.
Many candidates appear for the entrance exam, just like every year. This year too, several candidates applied for the entrance. The admit cards for BITSAT 2016 for all candidates were issued by the BITS Pilani authorities. The admit card contains all necessary details like name, registration number, or enrollment number, the venue for entrance test, test slot/ timings, date of birth, etc. The BITS test is conducted across several centers in more than 50 cities of the country. The test witnesses' lakh of students appear, therefore, it is conducted in different slots, with different timings and throughout a period of minimum 14 days. From the different days, the particular day has to be chosen by the candidates and the same is mentioned on the admit card with the slot issued to the candidates. Reporting at that time on the same day is very important.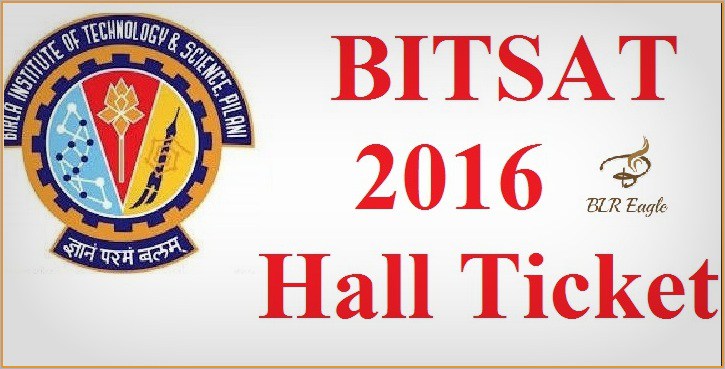 Admit card issued by BITS Pilani for BITSAT also contains several instructions which must be duly followed by all candidates.
The steps to download the admit card for BITSAT are as follows:
Go to the official website of BITSAT admissions 2016, the link to which is http://bitsadmission.com/index.aspx.

Click on the link highlighted in the front page itself, to download the BITSAT 2016 admit card.

On clicking the link, some details will have to be filled first as asked.

Enter application number, Gender, Date of Birth in day- month – year format, and lastly provide in the remaining field- your email id.

Now click on the "Proceed" button in the bottom right corner.

Before you proceed to obtaining the hall ticket, as per the instructions, make sure your device is connected to a printer.

Now as your hall ticket loads after clicking proceed, check if all the details are correct.

Next, download the hall ticket/ admit card and keep it safely for future use.
For more details regarding the admit card for BITSAT, check the above mentioned official admissions portal. You will also get information about the BITSAT schedule, counseling procedure, results, the cut offs, the different campuses etc. All BITSAT applicants must stay up to date and regularly visit the official portal http://bitsadmission.com/ to look for the important notifications released on the website given above.