It is advisable to clean any fireplace when inside the chimney there is 1/8" of sooty Buildup. Since property holder or common individual might not recognize or judge the condition of the system accurately. So, it is good to sweep chimney at least once in a year. Like servicing car or any other vehicles chimneys also require maintenance and sweeping and it is the most importanttask. Clean chimney lets exhaust fumes to safelyvent into the outside atmosphere keeping home safe, smoke free and help burning fire efficiently.
Chimney cleaning should be done if any glaze is appearing in the flue. As it is a hazardous state and is susceptible to combustion. Also, chimney can catch fire if essential amount of soot and creosote builds up into chimney. This type of fire start from chimney and can spread to the roof and home.Even though the chimney is not in the use a whole lot of birds, raccoons, squirrels and other critters would be using it which makes it dangerous to use without Chimney repair and clearing out debris.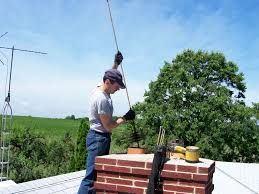 Some heavy used fireplaces produce, incredible amount of creosote and soot during chimney sweeping. There are several chimney cleaning services which removes these materials as it is critical and unsafe if not cleaned.
Why Chimney Repairing and Sweeping is required?
The combustion process release impurities through chimneys. While these are carried away with exhaust fumes, a proportion of it adhere to chimney. In some cases, acidic materials get deposit in the combustion process on metal chimneys or masonry and deteriorate them. The higher the rate of deposit the slower the fumes travel up chimney.
Over the time of period deposition of these impurities increase and can build a crust around chimney. These blocks fumes and catch fire which is risky for family members.Driving rain or high winds can also damage chimneys, which will affect the flow of fumes into outer atmosphere. So, it is essential to have chimney swept in regular interval of time.
When a ChimneyInspection needs to be done?
If the chimney is not inspected for a year or more than that. If there is any performance issue with chimney. If chimney is heating more unexpectedly. If a fire takes place because of chimney. If the chimney was unused for a longer period and before moving to a new house the chimneyought to be inspected. One should not delay as it may result in more degradation and increase in cost of chimney service and repairs.
Chimney also needs to be inspected if the heating system is upgraded or an additional gas or stove is added. Inspection will help to determine if the present lining, chimney and venting systems are adequate to handle the new change.
How to keep Chimney clean for longer duration?
The most reliable suggestions to keep chimney clean is Burn Only Seasoned logs, start with a hot fire, have chimney which is properly lined and chimney cleaning logs.
Fresh woods are full of moistures and impurities which would result in more deposition inside chimneys. Seasoned logs are dried out so less moisture and impurities are present. So, it is advisable to opt for seasoned woods on fresh felled woods and pine should be avoided as it increase the chances of creosote accumulation.
Where to Find a Reliable Chimney Sweeps?
As the wood burning stoves are cost effective to heat the home, chimney sweep services have also grown in recent years. To find a reliable chimney sweep there are many web portals and accredit chimney sweeps are available in the market. There are chimney services available on web through which chimney sweep and inspection can be scheduled and they will provide a quick service ensuring the best.
Now days most of the sweep service will remind their regular customers for annual inspection so that customer will not need to remember.