Outdoor areas now seem to compete toe-to-toe with their indoor counterparts. Nowadays, you can see in outdoor living spaces an arrangement of comfy loveseats and couches, vibrant accent rugs, and even a dining set.
The line that draws the essence between the two has become even thinner and more blurred as time goes on. Because of this, choosing outdoor furniture means selecting not only aesthetically appealing ones but also durable pieces that can withstand outdoor elements like the weather.
There are many furniture pieces to choose from on the market nowadays. Of course, you can find furniture pieces made from different materials, styles, and function. Here are some furniture ideas to transform your outdoor space into something beautiful.
A Simple Patio with a Timber Side Table
Imagine yourself spending your reading time outdoors, sitting on a chair near a wonderfully-crafted side table. Sounds beautiful, right?
You can choose a 6 x 96-inch chunk timber side table divided into four equals for its stand with a circular saw. This wooden table adds a modern feature to a traditionally rustic patio. For you to add some detail to this outdoor space, you can put on a comfy rug in a vibrant color.
A Little Bit of Shade
For you to fight off the warm weather during summer months, you need to have a shade that has lively details and vibrant colors. Shade is an excellent protection from the sun while you are having a little family picnic in your backyard.
You can also install it near a folding table and colorful bistro chairs. Go for a green-colored shade because it is a pleasant color to the eye, especially when you are out basking in the sun. 
Cool Outdoor Dining Set
If a not-so-formal dining set interests you, then it will surely be a good idea to furnish your outdoor dining area with a bar-like dining set. It is a favorite for interior and exterior designers to furnish the outdoor with a bar, cafe, and lounge seating areas for a comfortable dining.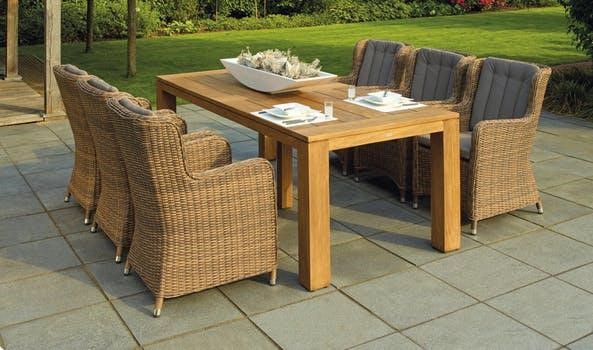 A transitional wingback seating has gained popularity nowadays. If you want to go for it, just make sure that the aesthetic design comes with weather-resistant materials for it to last longer for years.
Desk on Wheels
There are many uses an outdoor desk can achieve. It can hold food during outdoor family gatherings, support to display your collection, or you can bring your office work in there. For efficiency and convenience, make sure to choose a desk on casters.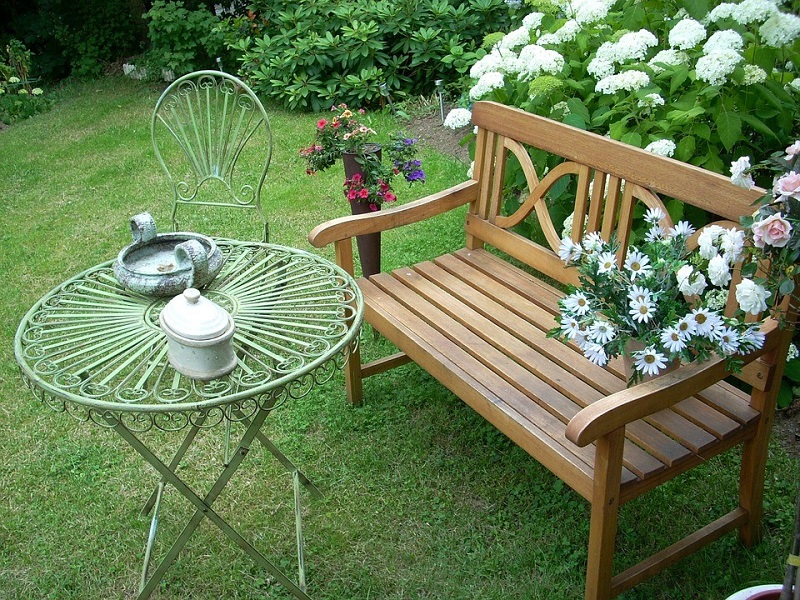 A desk on casters is easy to transfer for usage to other areas of your house. Choose a metal desk because it is sturdy and durable. For the seats, you can look for wooden chairs that can withstand outdoor elements such as the weather.
Bright Color Bench in the Garden
A colorful, simply-constructed bench with built-in planters is an excellent idea for your garden. You can choose a bright orange color for this furniture piece. Match it with a trio of trellises in the background to supply both height and pattern that is perfect for this low seating space.
You can look for durable and high-quality benches in reputable furniture sites like focusonfurniture.com.au.
Painted Bistro Set
If you want to personalize your bistro set, you just need a few containers of paint, and then you are good to do the paint job. The magic word in this do-it-yourself project is "personalize." You need to let your creativity flow and reflect your personality in the output.
You can either paint it with rainbow hues or go for a muted and monochromatic color scheme. Make sure to choose an outdoor paint that is weather-resistant so that it will not quickly fade away. 
Hanging Chair in Your Backyard 
A hanging chair in your backyard is a good idea if you want to relax and unwind outdoors. You can have your reading time in this or family chitchats in this hanging chair. It can also double as a swing for your children to play.
Outdoor Daybeds
For an ultimate relaxation where you can just lie down your body for siesta, choose daybeds for your outdoor. An outdoor daybed is an ideal place to read, sunbathe, and nap while taking pleasure from the natural outdoor air.
Choose vibrant and colorful throw pillows and shade to add some beauty to your outdoor furnishing. Most daybeds have a built-in shade that makes them perfect for outdoor summer lounging. 
Takeaway
Furniture is a must-have in your home, especially for your outdoor area. It provides beauty and function to make the design of your outdoor space beautiful and make your home life easy. There are many great outdoor furniture pieces on the market, and you need to choose the best.