If you are looking for some tips on how to decorate your home, browse our website now.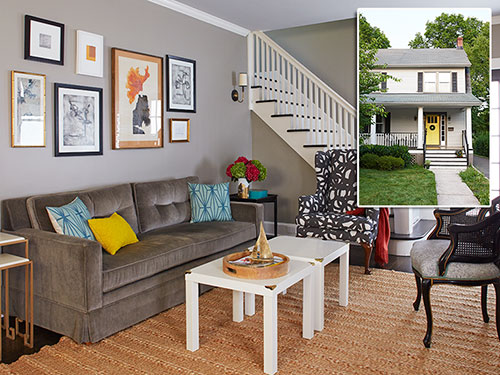 Add fruit
Fresh fruits are not just healthy foods. Fruit used as a decor brings fresh colored vibrations to every room.
Think outside of the box
Add unusual details in a room such as a fireplace or a bath, in the middle of a room.
Use unfunctional details
Do not be afraid to be creative. Old ladders can be a trendy detail in a room. They can be the perfect replacement for the boring shelves.
Combine wood with white colors
People who have elegant bedrooms have one simple formula which is using the combination of wood, white and natural light.
Not every piece of furniture has to have matching colors
You can combine several different styles and thus add a bit of drama in your living room. Also, if there is one piece of furniture with a completely different color from the rest of the furniture, it will perfectly spice the atmosphere.
Put a few pieces of furniture at the center of a carpet
If you place a dining table and chairs in the middle of the room, make sure that the carpet below is large enough to fit the entire furniture.
Create a positive entrance of your home
Your hallway is the first thing guests see when they enter in your home. Create a pleasant atmosphere with mirrors or furniture that suggests what is expected in the rest of the house. Make sure it is soft and positive.
Rooms look bigger when they are decorated in white
Small spaces look larger when white color is the dominating color. Avoid dark tones if you have a small home.
Choose an interesting coffee table
When it comes to choosing a small coffee table for the living room that usually stands in front of the sofa, make sure that the central decor is dominant. You can make that possible by adding a flower arrangement or an interesting bowl, then add less decorative items around.
Combine different styles
Create an interesting look combining a variety of styles. Buy colorful pads made from various textures. Combine silk, plush, wool…
Do not forget about the cabinets and the walls
For extra styling, you can use wallpapers to decorate walls or even ceilings.
Add greenery
Bring the nature into your home! Be sure to place pots with room plants that will give your home a life.
Do not follow trends blindly just because it is modern this year
Remember that a new one does not always mean better. Sometimes the old rug can also serve as a perfect décor for the existing furniture. You can use old chairs and with a simple repainting make them look like new.
Combine texture
Do not be afraid to play with materials. Do not be afraid to combine and experiment. Use metal and wood, glossy and matte surfaces, plush and mohair. Make a contrast in your interior, that's what will make your home beautiful and unique.