Are you planning to open your own brand? Have you decided on the signature element of your brand? If not, think about it now and get going for your business line. Every brand wants to stand out in the crowd in their own way which is quite obvious. We all need something unique to sell in the market. As the present day competition is so tough it's really tasking to make your presence felt in the market. In this case, hang tags are one of the most effective ways to create an impression in the corporate world. If you're a budding entrepreneur you should always think from the buyer's perspective. You should ask yourself what's unique in your brand that will set you apart from your competitors. Hang tags can help you to build the basis with the miniature representation of your enterprise. They attract the attention of the mass and also foster business immensely.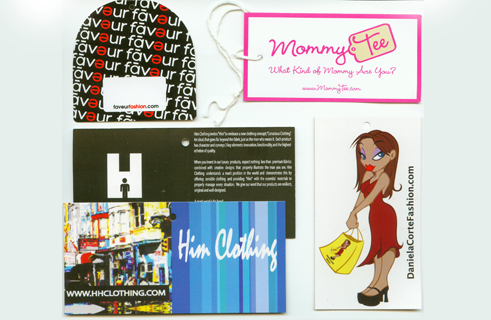 Let's give you a proper picture of the top five creative uses of hang tags. Read below:
Hang tags as Business Cards- All business professionals, entrepreneurs, personalities and any person with a professional identity normally print business cards for themselves. Instead of making business cards, hang tags can be used to create an identity as well. Design the hang tag like a business card to contain all the important information about yourself like your name, designation, company and contact details. This new idea of a business card will be creative as well as pocket-friendly. And to add to the creativity give a unique shape to your business card and create your identity with an edge!

Hang tags as Flyers- Have you ever thought of using hang tags instead of flyers in public places? If you haven't give it a thought. Think it again. This is one of the most creative ways to gain attention. Attach the hang tags to the house, poles and other public places and enjoy the attention. Try it!

Hang tags as Clothing Tags- Clothing hang tags are one of the most popularly used tags. These are unique and as they are attached to the clothes they create an identity of the brand and garner interest. If you're planning to open a clothing line, never forget the clothing tags.
Hang tags as Bookmarks- Bookmarks are an excellent way to create an impact on the masses. Of course, you will promote your business through them but the fun part is the supplementary information that comes with a bookmark. Interesting quotes or some comic line makes the bookmark all the more interesting. These are usually kept for a longer period until and unless they're misplaced. So, try it!
Hang tags in Press kits- Press kits contain all valuable information about the company. A hang tag in it along with other details works wonder as a marketing tool. This is probably the best way to retain and aware others about your presence. Think about it and make use of it for a better business.
Hang tags are wonderful in creating an impression on the mass. The above-mentioned ways were the most creative and effectual way to reach out to the market with a sole identity. Get your information sorted and execute it in the form of hang tags that accomplish your goal smoothly. All the best!