The task of nurturing a baby was meticulous, but there was an opinion that an outing with the baby shouldn't be so tedious. Viola, thus emerged a baby diaper bag. Fast forward years, and now you have a wide range of nappy bags or baby diaper bags to choose from. These extend beyond carrying only diapers, so there are a few points you must consider before purchasing one.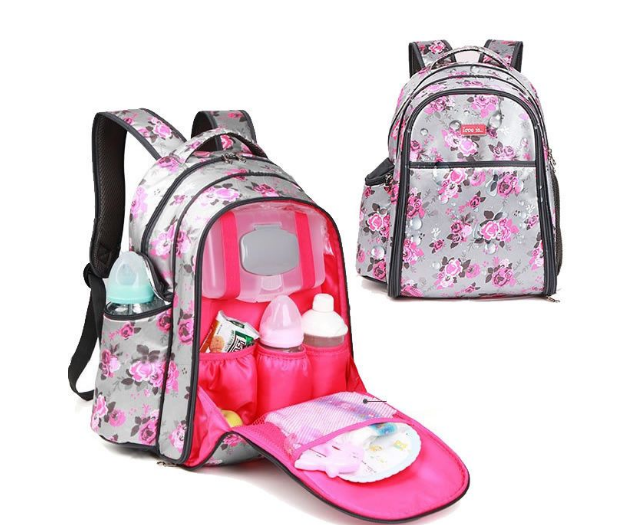 A baby has a never-ending list of items that s/he utilizes. With innumerable objects, the parents are in dire need to find a bag that fits all. This is the basic reason why excessive storage space is paramount when looking for baby nappy bags. A nappy bag should not only hoard all baby items, but it should be organized for quick access when a situation arises. Everything should be kept at a proper place. Organization of contents in a big baby diaper bag will make for a hassle-free outing.
Do not make the mistake of underestimating what goes in a baby bag. Here's a general list:
Diapers

Baby lotions, powders

Wipes

Plastic/paper to get rid of used diapers

Extra clothes

Baby toys

Bottle/ sipper

Snacks

Parent's items (keys, wallet, phone, water, sanitizer, etc)
You cannot overload a bag as it would make it difficult to carry.
Quality
Choose material of good quality, because a baby bag is an investment that will be used for years. Good quality ensures that a bag does not rip off or get crumbled due to any turbulences. Baby diaper bags with flimsy linings or weak seams will never do the trick of going on a baby's day-out stress-free.
Choose the fabric that weaves the baby nappy bag very carefully. Velcro should not be used around delicate clothes, because it sticks to them and ruins them. Over a little time, the Velcro loses its stick, and is not beneficial in an investment for a long haul. Lastly, the sound caused by moving the Velcro might turn out to be very uncomfortable for a baby.
The fabric one should go with should be durable, convenient to maintain, and comfortable in harsh weather conditions. If it is stain and water resistant then it would be easier to cleaning, making it all the more appealing. These days, baby diaper bags have Agion which is antimicrobial in nature, protecting a nappy bag from getting susceptible to growth of microbes.
Babies are in direct contact with the diaper bag, either by constantly putting it in their mouths or touching it. Indirectly, the hands of the parents who utilize baby diaper bags can touch the baby and transfer germs. To avoid this disaster, one has to ensure that a diaper bag is easy to clean.
Some specific features in a baby diaper bag will make your task easier. These things are:
Detachable changing mat – Hygiene is the principal concern when placing a baby to change the diaper.

Bottle pocket

See-through pockets

Washable lining – The bag can be cleaned easily.

Adjustable strap – For ease in carrying the bag
After looking out for these attributes, do not forget to test the bag before buying it. This guide will get you the perfect baby diaper bag.