It is said that "a woman's hair is her crowning glory." That could explain why female models are often depicted with long, luscious, thick and healthy hair that they swish around for maximum effect; why hair salons push hair products that promise to add body and bounce to our hair; and why so many of us sit up and take notice when a woman with a full head of beautiful hair walks into the room.
On the flip side, we denigrate or think less of women who have dull and lifeless hair. Who can forget the time when Hillary Clinton was mocked for the limp and lifeless, wash and wear hairstyle she had when she was a busy US Secretary of State flying from country to country tackling the issues of the world, too busy to style and blow wave her hair. Judging from these few situations, it is understandable why people would equate good hair with good health and good looks.
That all seems fine if you were one of the lucky ones who was born with thick, luscious and healthy hair; but what if you were born with limp and lifeless hair? Or, sadly, if you were battling an illness or undergoing chemotherapy that caused your hair to thin out? There is a way to overcome and disguise these hair issues, thanks to real hair extensions Melbourne.Real hair extensions are hair extensions that are made from virgin Russian Caucasian hair that are healthy, have never been chemically treated and have remained intact in their natural state.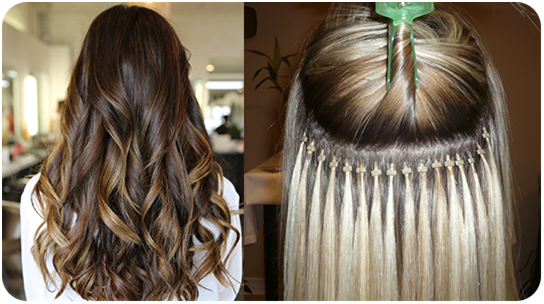 5 Top Reasons to Wear Real Hair Extensions
To add volume, thickness and length to their thin or short hair. If short hair is preferred, there are real hair extensions that merely add volume but not length because these hair extensions are custom made to not only fit individual clients but also to achieve the look their desire. Don't kick yourself for a bad haircut or for taking too much off the length. The natural look of real hair extensions are a great way to give your hair the instant length you desire while giving your natural hair the time to grow out.
To hide dry and damaged hair caused by the overuse of chemical treatments such as bleaching, colouring, perming and other hair treatments. Real hair extensions are a safe
Simply to be adventurous and experiment with different hair colours. Celebrities like Katy Perry and Rihanna have used real hair extensions for this very purpose. Maybe you are undecided about dying your hair or don't want to damage your hair with colouring. Real hair extensions will allow you to have your cake and eat it too…change your hair colour by all means and still protect it from being dyed.
To look fashionable, stylish and healthy every day of the year. That would be nice, but styling and blow waving hair every day takes effort and time. Not with real hair extensions. These hair extensionsare instant (only 15-60 minutes to install depending on the number of wefts) and you have a head of luscious hair. This would be an excellent choice for a busy person like Hillary Clinton.
To boost your confidence and self-esteem. Because we live in a society that values good health, thanks to real hair extensions, there is no need to suffer the rude stares of some people just because you weren't born with a full head of luscious hair or if you are losing hair because of illness or chemotherapy treatments.
Finally, we mustn't forget another reason…vanity. Women over the ages, in all cultures have adorned all sorts of accessories to beautify themselves or enhance their already good looks. Real hair extensions are a safe, quick and affordable way to do this. It is not drastic and permanent, like plastic surgery or tattooing, so it can be easily removed or changed when you tire of it. However, keep in mind that not all hair extensions are the same. The good ones are hand-made and sewn rather than glued for reinforcement because they are made to fit the individual and can withstand the many washes and anything natural hair is put through (e.g. Curling, straightening, swimming or sunbathing).