Buddhism has a dominating influence in the northern most parts of the state of Jammu and Kashmir in India. Ladakh is considered as a mini Tibet and is greatly influenced by the Tibetan style of Buddhism. The Tibetan Buddhism is divided into two main divisions, one is Mahayana, and the other is Hinayana. Hinayana concentrates on the enlightenment of mind, body and soul whereas Mahayan focuses on nirvana for all living beings. The Buddhists worship the Lord Buddha and people who are known to be the reincarnations of Lord Buddha, which are known as Bodhisattva.
Buddhist monks are the priests of the Buddhist monasteries and are termed as Lamas. Usual dress of lamas includes bright terracotta coloured robes and have a simple lifestyle. The head of lamas is known as Kushok and is said to be an incarnation of a holy man of the past. They are given the title of 'Rinpoche.' The lamas have an important role in various religious ceremonies like marriages, birth and death.
Ladakh has a large number of age old monasteries and Gompas that have been home for Buddhist monks from a long time. You will find the widest collection of Buddhist sacred texts and books of Tibetan Buddhism along with many ancient idols, frescoes and other religious treasure. Most of the religious ceremonies and festivals are organised and celebrated in these monasteries and Gompas and are organised by the lams and monks. The most famous monasteries of Ladakh include Lamayuru Monastery, Spituk monastery, Hemis Gompa, Shey monastery.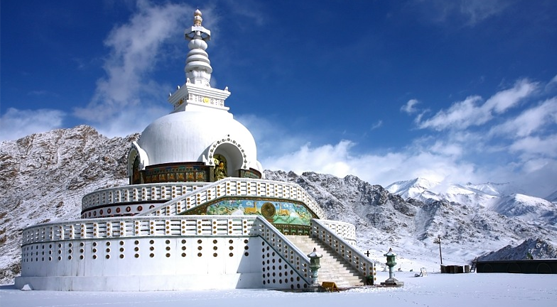 Thengkaa is speciality of this place, which is basically a religious painting of Buddhism that is displayed on every auspicious or religious occasion or ceremony. Most of these paintings contain stories based on the life of Lord Buddha and many other Bodhisattvas, which are meant for enriching the imagery and Buddhist symbolism.
One of the great things to experience in Ladakh is the delightful festivals that are celebrated in this cold desert of India. The main attractions of these festivals are the food and the dancing. Te Lamas perform a mask dance which is the highlight of the festivals celebrated here. Some of the major festivals that are celebrated here are Dosmochey, Matho Nagrang, Yuru Kabgyat, Stok Guru Tsechu etc.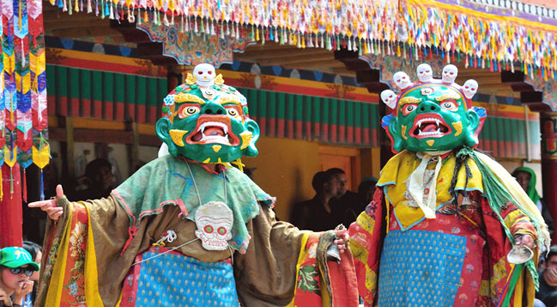 If you have some interest in exploring the Buddhism, then you can come here and get yourself enlightened with the rich Buddhist culture and philosophy. There are many travel agencies that offer many attractive tour packages to Leh and Ladakh. When you plan a trip to Ladakh, it is advisable to pack some good quality woollen wear with you as the climatic condition here is extreme, and it is almost impossible to survive such cold environment without proper winter wear. Buy some thermal wear online in India along with some jackets, winter caps and woollen socks along to stay safe during your stay here.
Author's Bio: The author is a freelance writer and is working with many websites such as www.woollen-wear.in. He likes to write on a variety of topics such as religion, travelling, style and fashion.