Delta Air Lines, a major American airline is the sixth oldest operating airline by foundation date as well as the oldest airline still operating in the US. Delta Air along with its subsidiaries operate more than 5400 flights on a daily basis and serve a wide domestic as well as international network which includes 334 destinations across 64 countries on 6 continents (June 2015). Delta is one of the founding members of the SkyTeam Alliance and operates joint ventures with Virgin Atlantic, Virgin Australia, Air France – KLM and Alitalia. In 2013, it was the world's largest airline in terms of scheduled passengers carried (120.6 million) and second largest as far as revenue passenger kilometers flown goes (277.6). It is popular for a reason and here we describe the Delta Air Lines flight experience.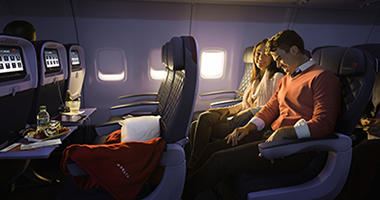 Delta One:
The airline's most exclusive class; Delta One is the airline's long haul international business class. Passengers in this class receive a grand treatment and receive complimentary refreshments, alcoholic beverages, meals and an amenity kit. You can expect high class fine dining, a 180 degree flatbed and premium entertainment options. Delta One passengers also get Sky Priority service which entails expedited security, Premium Boarding and baggage handling. Free access to Delta Sky Clubs and Delta's network of SkyTeam lounges are also part of the package.
First and Business Class (short and medium haul):
First Class is offered on all domestic aircraft. Depending on the flight, the seat width ranges from 18.5 to 20.75 inches and the pitch varies from 37 to 40 inches. Passengers in this class get free snacks, drinks and a full meal service on flights that are 900 miles or longer. There is also a power port provided on the seats (on certain aircrafts). The first class is labeled as Business Class if a domestically configured aircraft operates on an international route like those in the vicinity of the Caribbean.
Delta Comfort+:
Delta Comfort+ seats are on all Delta Aircraft. They have 34-36 inches of pitch and a 50 percent more recline than your standard Main Cabin (economy cabin) seats.Other perks over the ordinary economy class include priority boarding, complimentary spirits and the option of purchasing a premium meal prior to departure on international flights. Entertainment options are also better.
Main Cabin: Also called Economy Class includes seats which are 17-18 inches wide with a seat pitch ranging from 30 – 33 inches. On domestic flights, passengers in the main cabin receive complimentary snacks and drinks (non-alcoholic). Alcoholic drinks are available for purchase. Long haul international flights include complimentary meals and alcoholic drinks. There is also a basic version of the Main Cabin class called Basic Economy. It offers the same service at a lower but allows lesser flexibility options. Such options include no ticket changes and only having a seat assigned at check in.
A person can upgrade to any class using Delta Air Miles. Delta Air offers a wide variety of options in terms of seating which is suited to all prices