We all love those comprehensive, stunningly beautiful panoramic canvas arts displayed on the walls of houses, workplaces, or even on those billboards, we come across. Still, we know very little about these panoramic art canvases.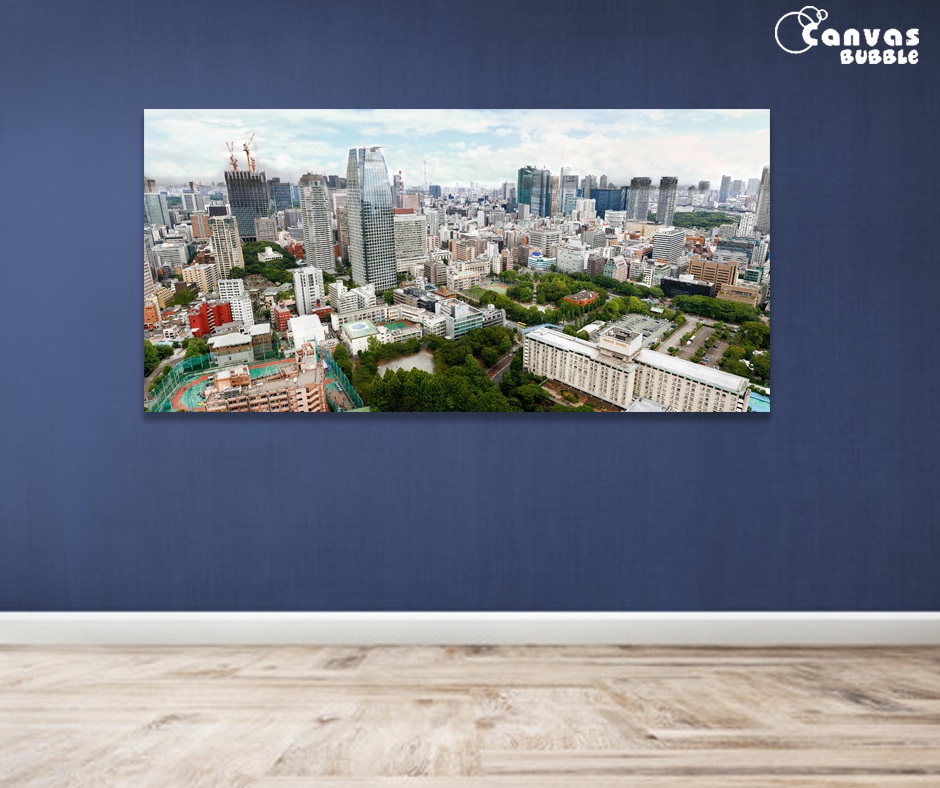 Nevertheless, we got to agree that these amazing canvas prints can bring out the best in the interior design and captivate the viewer with ease when displayed appropriately.      
But, What is a Panoramic Canvas Art?
Panoramic arts are paintings or photos in the modern-day that capture the full 360-degree view of a scene. Known for their lifelike views, panoramic canvas wall art has always been an excellent way to embrace creativity. The nonpareil beauty and the sheer size of these paintings are an instant eye-catcher for visitors.     
History of Panoramic Canvas Art
Bird's eyes view paintings were the paramount mode of landscape representation up until the late eighteenth century. This was mainly because these artworks showed the onlooker an unimaginable or unattainable viewpoint by a usual human back in that time. 
However, all that changed with the advent of the panorama, first patented by the well-known Scottish portraitist Robert Barker in the year 1787. This revolutionized the methods of portraying landscapes and gained more momentum when the portraitist proposed to exhibit a painted image of a landscape in a 360-degree view on a circular strip of canvas.   
Aside from a few hurdles along the journey, Robert successfully displayed his visionary panorama artwork at a rotunda. This provided the spectators with an opportunity to observe the scenic beauty of the artwork from a raised platform placed at the center of the dome. However, it is safe to say that this piece of art made it difficult for the viewers to tell the difference between the canvas and reality.
Nevertheless, like everything else beautiful, even panorama evolved with time, and the moving panorama was soon displayed at a stage in Edinburgh. These moving panoramas required two vertical rollers and a large canvas which meant that artists were no longer needed to showcase panorama artworks in a dome. Even though the moving panorama was a hit, Baker's original vision was still popular among many preeminent artists. Panorama revived its popularity in the late 17th century when it spread throughout North America and Europe.   
Panorama For Homes
Panorama is still trendy among art lovers from around the world. However, today the manually painted landscapes are replaced by digital images mainly because of the perks that come with them. Many people love displaying panorama artworks at their homes but are often unable to do so because of the sheer size of the canvases. 
But there is a solution to this problem, too, because now we have ways to leverage the available space at home and make a few tweaks here and there with the interior styling, canvas size, and furnishing. Therefore, here are some panorama styling ideas for homes: 
Nature And Life:

A postcard-shaped picture might not always do justice to the mesmerizing beauty of nature. Cropping amazing shots of different aspects of nature just do not do justice to the beauty of nature. 
With panoramic prints, we can give a picture the treatment that it deserves and even style our bedrooms or living rooms with an image in its original form. One can simply place the canvas over a bed or furniture to bring out the best look possible.
City Life

: Life in crowded and bustling cities has moments of beauty and appreciation, especially when we see manufactured skyscrapers tearing through the sky. There are various notable urban scenes where one could stop and appreciate the bright city lights. 
Leverage these scenic big city images to brighten up the living rooms or other places in the home. Showcase hustle bustle of city life into unique panorama art prints and breath in life into any home or apartment.
Wanderlust:

People take trips and vacations to take a break from their everyday lives, and most often, something good that happened on a particular journey brings in a train of good memories. 
So why not display a panoramic artwork which reminds us of that amazing trip we took some time back? Be it a mountain, beach, forest, or even snow-covered hilltops, panorama canvases are perfect for capturing the sense of that place.
Inspiration:

We all feel low at some point or the other in our lives, and what better way to lift the spirits than a beautifully inspiring panoramic canvas. Different people get inspired by different things; for instance, some might get inspired by a panorama of fruits and vegetables to live a healthy life. 
While others might be inspired by a mountain bike climbing a mountain to give their best in whatever they do and not give up on the goals. Also, one can use zen art to get inspired to meditate or do yoga.
Do Color Tones and Filters make any Difference for a Panoramic Piece of Art?      
It is not just panorama canvases, but color tones and filters can impact the looks of any painting or picture. Therefore, opting for the perfect color tone is crucial to bring out the best panorama canvases. However, it is also essential to consider the room's aesthetics to ensure that the panoramic picture works well with other colors in the room.
We suggest imaging the space in which the canvas is displayed and consider if the color tones in the picture look good with the surroundings. Then, feel free to experiment with the picture's warmth, filters, brightness, and color tones. Technology has made it very easy to determine the correct filters as there are so many options available. Further, one can even enhance the original photo with the proper use of color tones and filters.  
Final Thoughts
These days panorama print canvases do not require as much thought and effort as they did earlier. However, we must never fail to acknowledge the role of art and paintings in driving creativity and innovation among us all. Therefore, create an impact on the people who visit your place by leveraging the best online canvas printing and showcasing it on the walls of your work or dwelling place.