Now that summer is here, it is the time to reinvent the look and feel of your home. It is the time of the year to do away with the darker hues that we swore by in winters and bring in some light and more lively pastel hues. As you may have already read many blogs which talk along the lines of bringing new paintings or hanging framed Indianart to create a statement wall, we started to focus on something different this time. There is no denial to the fact that a carefully chosen oversized landscape painting is capable of creating a striking statement and becoming a focal point for contemplation. And, likewise strategically creating a mixed media gallery wall and carefully placed sculpturesare sure shot ways to spruce up your living room. While these are some of the most popular and efficient way to revamp the aesthetics of your living space, it should be noted that in the quest to make a striking statement we often forget the simplest things that we can do to heighten the spirits of a dull room almost effortlessly. Small pieces of furniture like console tables, night drawers, coffee table and side tables are perfect structures that will help you make a bold style statement. Let's see how…
In this blog we will be focused on creating a beautiful nook with the help of a side table and some accents. Sounds interesting, doesn't it? Read through the article to get some new styling tips on creating beautiful corners that will serve as your refuge, where you can snuggle into a comfortable chair and read your favorite book over a sip of hot coffee or cold tea.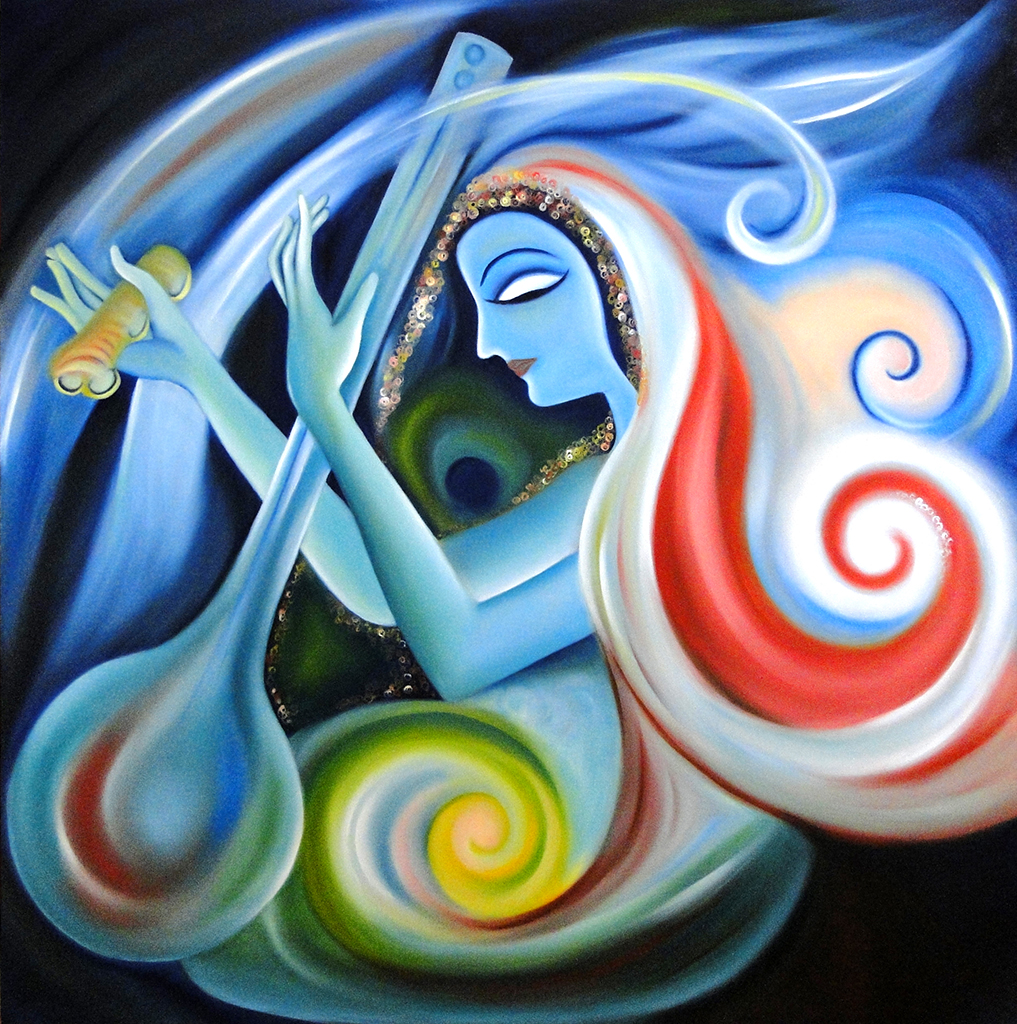 Add New Textures and Dimensionswith Layers
As you gear up to begin with styling your side table, start with picking up the largest Indian art painting that you have as the backdrop of your setting. Place the artwork in the backdrop to create a sense of color. This will also lend depth to your art vignette and allow you to add layers of small paintings, sculptures, framed photographs and even books. While adding different items, make sure not to go overbroad with colors and textures. Try and maintain harmony. To give an illusion of height, consider placing a tall vase or stack a taller table against a smaller table.
Make a Statement with Anchor Piece
While creating an art vignette on top of a table, always pick up your best Indian art painting or contemporary artwork as an anchor. Try and arrange the trinkets around the anchor piece in an "A" shape. This will help you create a balanced look.
Brighten the Dull Corners with Shimmery Metallic
We know its summer and its bright outside. But who says you can't glam up the interiors of your house with a little bling? Displaying some shimmery metallic vases, sculptures and even metallic frames is the easiest way to create a statement. It is also a sure shot way to catch the eye of your stylish neighbor, who will, after seeing the bling, surely go green with envy.
Be Simple and Stylish
Bling is not everyone's cup of tea. If you are someone who prefers to keep things simple, yet stylish, then pick up an elegant Indian art painting as an anchor for your table top art vignette and layer it up with clean lines and symmetrical geometric shapes. To add an element of nature, spice up the set up with some round shape pebbles.
These were some easy ways to create table top art vignettes. Hope you find it interesting and will try creating one at your home.