To become a Vosa MOT tester, there are a number of things you need to bring to the table, from the requisite qualifications to the right work experience. And if you decide to take this career path, there are a few aspects of the process that you should know about ahead of time which should make things simpler in the long term.
So what does it take to become a Vosa MOT tester, and what are the steps you can take to ensure that you achieve your goals?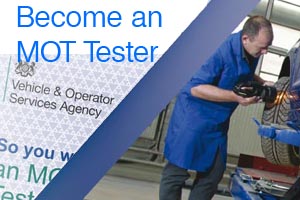 MOT Eligibility
To become a nominated tester (NT) and have the legal right to perform MOTs on cars in the UK, there are five points of eligibility laid down by the government which you must meet.
The first is that you need to be nominated by an existing MOT examiner, which is not a huge hurdle in itself, as during the training process this is typically the type of individual you will encounter.
The second requirement is that you must possess a full UK driving licence, and you must make sure that this licence also covers the classes of vehicles which you ultimately want to be testing.
The third and arguably the most important is that you must have accrued a minimum of four years of experience working as a full-time mechanic, acquiring the necessary skills to make you an expert in your field along the way. This means you will already have a deep knowledge of how the vehicles you will be testing operate as well as how they can be repaired, giving you a solid grounding to become a successful Vosa MOT tester.
Fourthly, it is necessary to not have any pending criminal convictions, either covering acts carried out with the motor trade itself or more generally as a result of violent conduct or intimidating behaviour. This ties into the fifth and final point of eligibility, which is a broader request that only candidates with a good reputation should apply to become testers.
Testing Qualifications
To achieve NT status and be able to test vehicles which fall into classes 3 to 7, it is necessary to have one of the many different qualifications recognised by the DVSA. These include many NVQs and certificates awarded by City & Guilds, as well as VRQs, NVQs and SVQs in subjects such as Vehicle Mechanical and Electronic Systems, Maintenance and Repair.
The full rundown can be found on the government's official site, which covers the process involved in becoming an NT. And finally, you must successfully complete the NTTA (Nominated Tester Training Assessment) exam; this is the final hurdle to becoming a fully qualified tester.
If you are joining an existing organisation as an NT, then this should be all you need to secure a position. If you are planning on setting up your own MOT testing facility to operate independently, then there are other requirements to meet, depending on the types of vehicles you want to test, covering everything from floor space to equipment.