Anoumabo Substation, a green field project in the suburb of port city of Abidjan in Ivory Coast was commissioned in March'16, adding to high voltage network in Abidjan. New substation such as this, are part of the Government plan for major expansion of Electrical Transmission & Distribution Network in Ivory Coast.
Project
Under contract with Ministry of Energy, Water and Petrol, the project for 90kV Anoumabo substation valued at Euro 4.389 million and financed by ECOWAS Bank for Investment & Development (EBID) was signed in Feb'14. The works included 2x50MVA power transformers, interconnecting line bays with Riviera & Bia substations and set of 15KV outgoing feeders for supply to adjoining residential locality.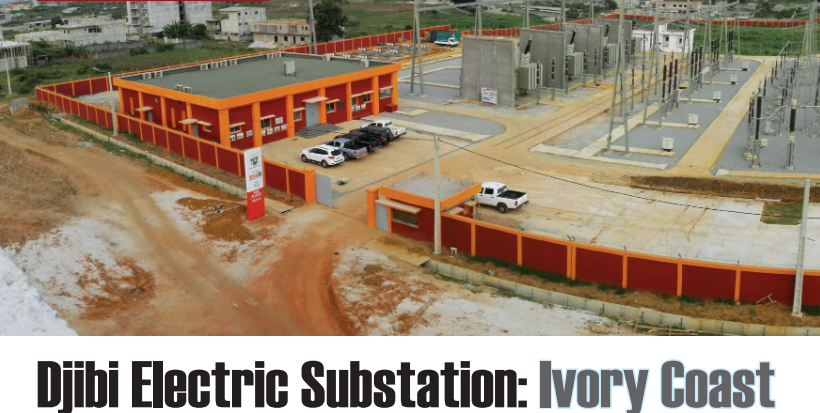 Salient features
Construction of new 90 KV substation, staring from leveling of the site to commissioning, complete with SCADA system suitable for remote control of substation equipments.

2 nos. Power transformers, of 50MVA capacity.

All major equipments like transformers, substation steel structure, cables, current transformers, bus post insulators, bus-bar, control panels, SCADA system, circuit breakers etc. were supplied from India.

Interconnected with other substation by high voltage underground cabling, no dangerously hanging wires are visible out site substation.

Two floor Building for housing control center of the substation, fitted with modern office suite, meeting hall, conference center and amenities for rest room and personal comfort.
Challenges
 1. Due to space restrictions on all sides, the substation was very compact design, while maintaining live parts clearances as per specifications and ease of operation & maintenance.
  2. This area is sea reclaimed land and thus the below ground soil is not natural leading to poor soil strength. Major problems faced in the civil construction were high water table thus requiring frequent and continuous dewatering of excavated pits, water seepage in under progress construction and higher corrosive environment.
 3. During construction phase, the project site witnessed congested and restricted vehicular movement leading to project material movement possible only during night hours.
 4.Specialized teams for equipment installation and commissioning were arranged from outside Ivory Coast as these are not available locally.
Technologically Innovative jobs
Civil Design for heavier equipment foundations like power transformers and control building in soils with high water table and poor soil strength.
Benefits for society
With the commissioning of this project, the locality in Anoumabo start getting electricity thereby helping to uplift their comfort level and living standard and improving connectivity. Besides continuous electrical power is also going to be a boon for industry.
Completion Time – 21 months
For more about EPC company visit at : http://www.angelique-india.com/home