I'd have to admit to being a disorganised type of person. Tools are a particular problem for me. I have a vast array of tools, both DIY, auto and computer related, but when I come to do a job finding the right tools for a job can often take longer than the job itself!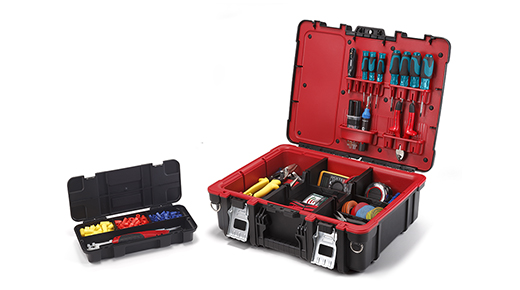 So now I am going to do something about it and try and keep my tools in some kind of order. To start with I looked around to see what was available and came across the CK Tools MAGMA range. Immediately I knew they would fit the bill and there are several different styles in the range to suit different needs. I particularly like the MA2630 Technicians tool case. It has two fold down panels which have an impressive 50 pockets to hold a wide range of tools but also has a thickly padded compartment to hold a laptop or tablet and also has a document pocket to keep paperwork such as job sheets, time sheets or invoices safe and dry. The pocket is also a full A4 size so no need to fold things up to get them in there.
My main reason for choosing this one is that I can use it to keep my computer related tools in but it is also a great way of storing car tuning and diagnostic tools in or would be equally suitable for an electrician. In this modern age of motoring a laptop or a tablet is as much at home in a car technicians toolkit as is a spanner or socket set. The MA2630's Polyester construction is not only durable but nice looking too and would sit happily on your shoulder whether you are in a suit or jeans and T-shirt and the padded strap will keep it comfortable if you commute by train or tube.
At under £40 (+ vat) from Edwardes Brothers electrical suppliers it really is the ideal choice. Having taken a look at a number of different online retailers, I found these to be not only the best priced but those with the best range to choose from; something which you really cannot argue with!
Above all, it's important to choose a tool case which offers flexibility but which, at the end of the day doesn't cost the earth and I'm happy I found something which satisfies this need perfectly!