A woman's bag contains basic essential things that they wouldn't wish to miss. The things women carry makes them to be ready for anything life throws on their way and at any time. They carry a lot of staffs, each serving a specific purposes when need arises. They include: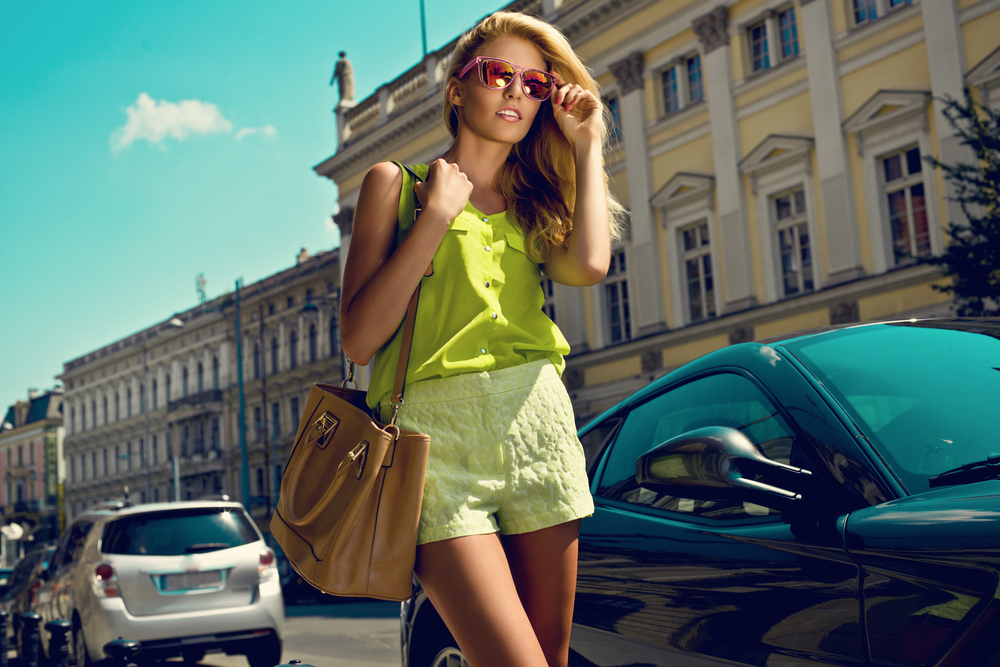 1. Safety Pins of Sewing Kit
Safety pins are useful; they save you from certain mysteries. They help you to fix popped up button, zip or a seam. You can also fix your necklace if it suddenly breaks.
2. Band-Aids
You can use Band-Aids in case you get some cuts and scrapes on your body. You can prevent painful blisters from forming on your heels in case of a long distance walk. Also you can use them to hide a nail with chipped polish.
3. Blotting Papers
These are small sheets that are used to absorb excess oil, shine or sweat on your skin.
4. Cardholder
This is paramount for quick access of your cards. They are also necessary for neat arrangement of your cards in your bag.
5. Healthy Snack
A healthy snack is important in a woman's bag. It will save you from hunger in case you miss a chance to take lunch. This is essential especially for those people with ulcers. Some candy and chocolate will help you to fight dizziness when it appears unexpectedly and also boost your energy.
6. Mobile Phone, Extra Phone Battery or Portable Charger
They save you from missing important calls and also in case you have an emergency and you need to make a call. Portable charger helps you to recharge your phone when need arises.
7. Stain-eraser Pen
Stain-eraser pen helps you to remove small stains from your clothing. This will help you to maintain your decency throughout the day.
8. Zippered Pouches
These pouches help you to compartmentalize your staffs in your bag. At least three compartment for beauty supplies, first aid and other small necessities such as receipts, cardholder, pen or notebook.
9. Hand Sanitizer
This will help you to keep germs at bay especially if you work with public transit. You should opt for one with vitamin E or moisturizing agent to prevent your hands from drying out. They also have an awesome scent.
10. Breath Fresheners
They help to keep bad breath at bay. They include mints, tic tac, orbit or gums. After meals, you need to freshen up your mouth. Bad breath puts off people around you.
11. Soft Tissues
They are essential to every woman. They have various uses such as wiping dirt on a seat, used when you are sneezing, visiting the lavatory and many more.
12. Makeup Kit
A woman makeup kit is always packed with makeup products. This will help you to remain flawless and also maintain your natural look. One of the makeup tricks is to moisturize always. Thus you should carry a moisturizer with you. Carry a makeup compact with good mirrors. Mirrors help you to makeup. Some of the products that must be present in a makeup kit are;
Find mascara that works best for you and know how to apply it. It adds the volume to your lashes, separate and lengthens them. There are vast varieties of mascara. Some are waterproof, black or turquoise.
They add an extra pop that polishes your natural look. You should choose the color that matches your skin color. It also creates a beautiful focal point on your face. Lipgloss keeps your lips soft, hydrated and moisturized.
It accentuates and defines the shape of your eyes.
13. Nail File
Nail file will help you fix your nail mishaps. This will prevent you from walking around with broken or chipped nail.
14. Wallet
You use a wallet to carry your cash. You can also use it to carry your cardholder
15. Perfume
This will allow you to have a lingering scent always. You should carry small perfume bottles, vials, roll-on or atomizer on your purse.
16. USB Flash Drive
You can use it to back up important documents when travelling. You can also use it to give a presentation or to check on important document.
17. Tampons
They are essential to every woman at all time. You should carry them always, in case you meet one who really needs your help.
18. Aspirin
It is an analgesic drug that reduces pain without inducing unconsciousness. This will help you to take care of yourself in case of cramps and migraine. Other drugs such as paracetamol are essential in case of fever or ondem to prevent vomiting.
19. Lotion
It is necessary to moisturize yourself always, to avoid skin dryness and breakouts.
20. Notebook and a Pen
This is essential in that you can find something important that you need to note it down; it can be a phone number, idea or a quote. They are mostly required when you least expect it. You can also include emergency contact information in case of anything.
Conclusion
However small a woman's bag is, it carries everything she needs to remain beautiful and radiant. Make sure you are ready to face what life throws at you. This is by carrying the above essential items with you always.