Historically, Saunas have a longstanding tradition of use. They are common to many US and European Countries, as well as in Asia. In some countries, you can find saunas in nearly every home. There are mainly three basic types of sauna heaters. The first type is wet finish sauna where steam is generated by throwing water on hot stones. In this type of sauna, the heat can be generated by either burning wood or by electricity.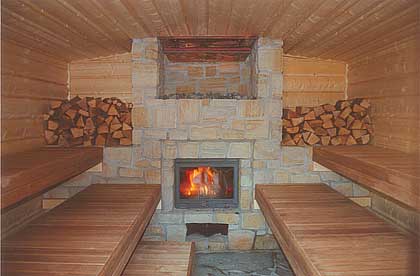 The dry finish sauna uses electrical heating and it doesn't employ water. The sauna heaters in this type of saunas are not made to have the water poured on them. Infrared sauna is also very popular among the users. This type of sauna heats the sauna from the inside out.
Wood Burning Sauna Heater:
Wood burning sauna heater is considered to be the most traditional kind of sauna stove. If you live in remote areas with no electricity or if you want to get the traditional sauna experience, you may want to consider a wood burning sauna. With wooden sauna heater, there will be a nice aroma of the burning wood and the ambiance of burning wood is relaxing for you.
Use of Wooden Sauna Heater:
A wood fueled sauna heater is not subject to the restrictions as the traditional electric heaters. There is no limit to the maximum temperatures you can operate these heaters. In some cases, a wood fueled sauna heater may not be approved for use within your home.
However, you can always install them to heat a detached, separate sauna building, for e.g. on pool decks. There are people who choose wood burning sauna stove to heat saunas in their cabins or outbuilding in some remote locations that don't have access to electricity. Furthermore, it improves efficiency since they heat up quickly.
Advantage of Wooden Sauna Stove:
The main advantage of using wood burning sauna is that it requires no electricity to operate. You just need to install a chimney and maintain proper clearance from all nearby surfaces. On most wood sauna heaters, the exit flue can be switched by the customer at the time of installation from a rear exit to a top exit depending on the preferences as well as the structure of the room. You can even find some superior kinds of wooden sauna heaters that have porcelain finish on the outer surfaces. Since these types of finishes are tough and durable, they remain active through the years of use.
Wooden heaters are able to heat a large room easily, and that even to a higher temperature than electric heater's without requiring electric wiring for 22-240 Volts. With do-it-yourself sauna kits available nowadays, wooden sauna can be easily assembled in few hours. In this type of sauna kits, all the boards are pre-cut for precise fit during assembly. The wooden fuelled sauna heaters will be able to heat the sauna in just a little time, providing the users with an authentic and traditional sauna experience.  This is the reason why wooden sauna stove is ideal for outdoor saunas or areas with no electricity.