You must also be longing for a unique haircut which can attract girls easily… (jokes apart) Not only you, every man longs for a stylish haircut that matches their trimmed or groomed beard. All you need is to keep in your mind about the hairstyle that suits you and fulfills the requirement of your everyday lifestyle.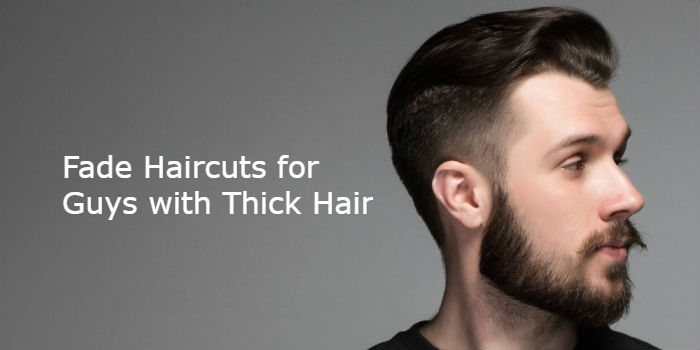 A guy with thick hair should keep in mind about the volume of its hair and must surely opt for a haircut that gives natural hair thickness. Men with thick hair are guaranteed for a great hairstyle, having a plenty of options for their style. They just need to choose the proper haircut according to their look as well. Men with thick hair require proper hairstyle to maintain the thickness of their hair.
When we are talking about the fade haircuts, the guys opting for a fade hairstyle indirectly wants a military type of look (stout and tight). Thick hair guys may obviously choose this that can be your choice giving you a cool look.
Types of Haircut for Thick Hair
Shaggy Brush Cut
Shaggy brush cut fades the side hair and a part of your back head giving you a handsome cool look with a slight beard and mustache. All you need is the correct texture. A pomade or a cream for texturizing will help to separate the pieces and the top hair ( its layers). Men with thick hair can opt for a fade shaggy brush haircut that also styles the front pieces of hair forward.
Undercut for Thick Hair
If you are having a thick voluminous growth of hair, try with the undercut hairstyle which is one of the stylish and trendiest haircuts. Fade it back to the side and back to give you a cool look.
Curly Top and Short on Sides
People who got a thick curly hair cut their hair keeping the volume on the top. It naturally works well with curly wavy hair.
Thick Wavy Crop
Thick wavy hair creates a definite and cool texture. Thick wavy hairstyle does not need any special requirements for long hair. Fade the back and sides slightly so that the hair looks much thicker. The natural texture will itself work for you if you try for a short haircut as well.
Textured French Crop
The guys with thick straight hair can try out with textured French crop. You need to maintain the texture properly as well.
Thick Wavy Pompadour
Men with thick wavy hair are generally proud of their locks. Seriously, if you got a thick hair you must show it off. Combine your low fade haircut with the long waves at the front with a groomed beard and a thick mustache that might make you look cool.
Wanna shows off your thick bushy hair??? Wanna attracts girls?? Umm… Jokes apart…!! Well, all the guys with thick hair must choose the classic, sporty or a military look that definitely suits you. Keep on experimenting with different hairstyles.