When Looking for the latest trend in clothing for women nothing beatsa Kurti. It is considered to be a beautiful and elegant way to express yourself. Be meticulous in selecting perfect attire by wearing a Kurti which enhances your personality.To look pretty, you can choose from the large varieties of kurtis design as per your body structure.
The women having oval shaped body will certainly look elegant in a kurta with flared bottom.Apple shaped ladies should consider Kurtis with a tight outfit, weight around middle part makes you seem pretty by finding a tight outfit. Avoid salwar and Patiala in the bottom.
Pear Shaped bodies have weight around the waist. They must consider avoiding tight fit Kurtis. Ladies with Pear shape bodies will look amazing in loose Kurtis.
If you have a straight body, then you must keep yourself away from the tight and straight Kurtis.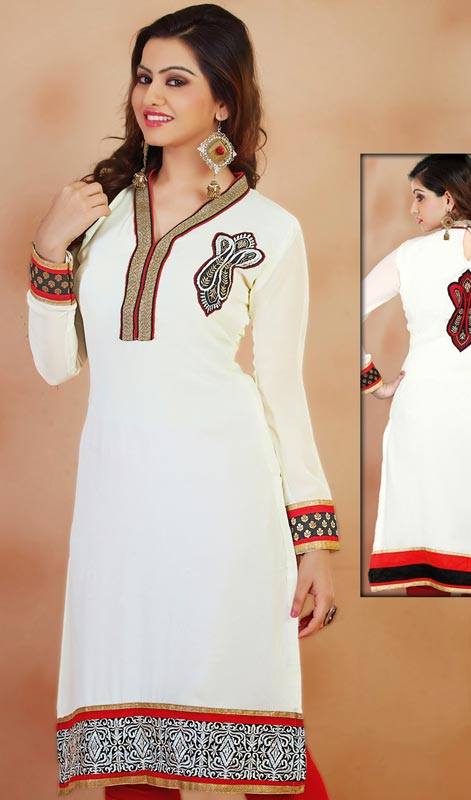 There is a vast variety of Kurti collection available nowadays. Some have good pattern work, embroidery, and the splash of colors attract us more. Be it a party or any other occasions, ethnic wear always grabs attention towards it. Being the classy trend, the Gown Kurti is gaining rapid popularity. So hereyou are introduced with various types of Kurti and well-suited matchings:
Flared Kurti: The design of Kurti is in such a way that it looks fresh and stylish in every season. These Kurti were well worn with leggings or jeans.
Pakistani Kurti: Today demand of Pakistani Kurti is increasing. Its embroidery and pattern are grabbing attention.
Anarkali Kurti: It is in demand from past few years. The interior design which seeks attention is its Kali look bottom side. It looks beautiful when worn with leggings, stockings.
Line-cut Kurti: These are normal and can be wearable for general purpose. The short line cut Kurti with Patiala make a perfect combination. You can also wear it by shalwar. Long-cut Kurti with leggings and stockings makes a good combination.
Angrakha Kurti: Want to wear Kurti for small function? Here comes Angarkha Kurti simple stylish and comfortable to wear. One can preferably wear it with leggings or jeans.
Dhoti-Style Kurti: Latest in fashion and stylish. One can simply wear it bottomless or can is preferred with jeggings, leggings. Dhoti style makes it look unique and straightforward. This Kurti can quickly grab one's attention.
Gown style Kurti: Classy and special occasion give importance to such Kurti. Its design is well suitable with any leggings, but one can wear leggings if needed.
Printed Kurti: Simple and stylish wear- Printed Kurti. One can wear it on a day to day life. It can be well suited with everyday Shalwar, Patiala or one can wear it with jeans as well as Legging.
Kaftan Kurti: With the growing Kaftan style, Kaftan Kurti's are also emerging to seek significant attention in the fashion field. It is well suitable with jeans and stockings.
Want to look whimsical, simple, unusual and unique with dress designs?  Then opt for such Kurtiswhich are appropriate to your body type.