Onam is among most significant festival celebrated with great zeal with enthusiasm in Kerala.  A 'Rice Harvest Festival", this great fiesta attracts many people across the India.  This is because of the activities that take place during the festival.  On the occasion of this festival, people clean and decorate their house by drawing beautiful Pookalam and rangolis.  People believed that on this auspicious day, King Mahabali is believed to visit his state of Kerala. This festival is a reflection of peaceful rule by King Mahabali decades ago.
Additionally, Onam shows prosperity and fruitfulness of the state. On the tenth day of the festival, customary rituals are done and a splendid feast Onasadya is arranged. Festival time is an awesome time for people of Kerala, as they dress up for the occasion, exchange and receive gifts from their special people and also from near and dear ones.
And when it comes of present how we can forget ornaments….Jewellery is the best token of love and appreciation.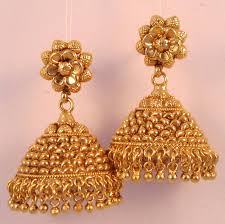 Here is a list of some of the ornaments that you can gift to your special one.
Earrings:  Jhumkas, Chandeliers, Studs…
Earrings are the best gifts for girls; also few of the men prefer to wear it one ear. Silver, gold and other metal earrings that suits the look and personality of the person to whom you are gifting. Your loved ones will be really impressed and pleased to receive such a beautiful gift with best wishes of Onam.
Bangles: Slim Kangans, Bracelets, Broad Bangles…
Stone studded, pearl and single broad bangle or any another type of slim bangles are the best gift for your loved ones. Apart from this, you can also present bangles with gemstones, diamonds, or gold or silver bangles that is latest in trend. Bangles jewellery is the main attraction for a woman.
Chains & Pendants
Necklaces and pendants are the most stylish and unique gift for your friends and cousin on the occasion of Onam. Buy trendy and beautiful necklaces, single string or double tiered embedded with gemstones or diamonds.  Classy pendants, gold pendants of divine symbols and gold God statues are best to gift it to your pious relatives. This present will surely bring smiles to their face and your emotional bond will get stronger. This present is good for women and men.
Bracelets

Nowadays, bracelets are in fashion and it is classy option to gift this ornament your friends or relatives. Beaded brass, silver stone studded, pearl as well as colourful stones bracelets, etc are the best option you can gift.  You can also get name embedded of your friends and relatives to whom you are giving on the fortunate occasion of Onam.
Other Jewellery Items
Besides these ornaments there are other many amazing and beautifully crafted jewellery are available in the market during Onam time, like designer gold anklet or payals, brooch pins embedded with colored stones and diamonds and many other. These ornaments can reflect your heartfelt emotions that cannot be conveyed in words.