It is hard to tell when the modest saree broke into the fashion scene, but it has to be admitted that it has arrived with a bang. Fashion designers and fashion aficionados have been attracted to this Oriental wonder that has been at the center of attraction at fashion shows. What made the ancient clothing draw the attention of the world is a matter of research. However, there is no denying that sarees have grabbed eyeballs. Bollywood celebrities should be credited for this popularity.They have always valued and promoted this apparel that is both ethnic and trendy.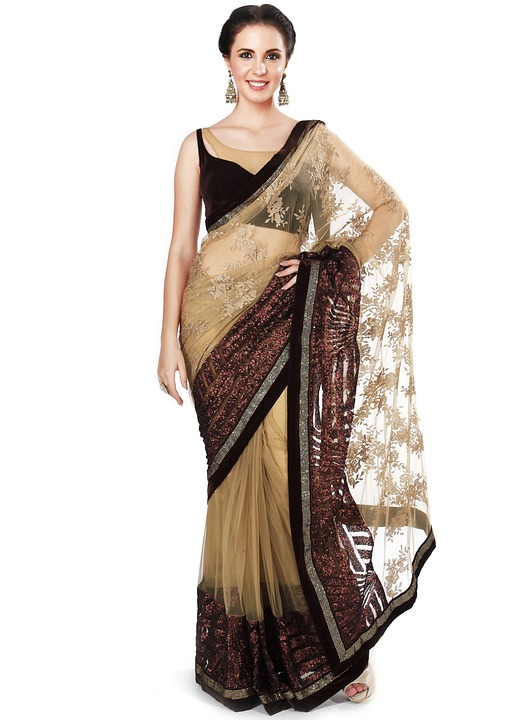 The New Kid on the Block
Even in India, the younger generation is more inclined to clothing having Western influences in design. But things are changing as sarees are now considered as emblem of fashion. Sarees are now being designed aggressively to make it haute and trendy.  Sarees are now the "in thing" in fashion,and there is immense fad for it in fashion circles.
Sarees have been Re-born
Having created so much of buzz, sarees are now going through the phase of re-birth.  Fashion designers are creating designs that make it trendy and more attractive for younger women. Sarees, worn with carefully chosen blouse neck design, can make heads turn. After all, only youngsters can give the much needed mileage to fashion. Sarees are now worn for attending high end parties and spending time with friends and the intimate ones. It is also a choice for office-wear and when going for shopping. The latest trending fashion of sarees has been captured in the post.
Sarees with Lehenga Style
The design of these sarees is such that when worn correctly, it would appear as if you are wearing a lehenga and not saree. The pleats are ready made, made out with extreme finesse as it matters a lot in creating style value. The draping might seem a bit complicated to maintain the tightness but when completed it looks gorgeous. Allow the excess fabric to hang freely from the left shoulder and walk out gracefully on the podium.
Net Sarees
The high end traditional sarees like Banarasi and Jamawar are notorious for being too heavy for its embellishments and heavy needlework. The net sarees make a departure from the convention and creates exclusive style without being heavy at all. The sarees reveal your subtle sensuality while adding a mysterious and seductive tone to your appearance.
Floral Party Wear
To stay in tune with the latest trends, sarees with floral designs on crepes and chiffon are what you would need. Splash in your favorite colors and wear the saree for weddings and parties. The variety of designs is mind boggling and there is always something that will catch your eye.
Jacquard Sarees
Jacquard sarees are the ideal way to display your figure perfectly while staying completely covered. The ultrathin fabric simply wraps on your body like nothing. You feel like sky walking as heads turn to have a glimpse of your presence.